Unverified: Video Purportedly Of ISIS Shooting Down Russian Airliner
ISIS claims it shot down the Russian airliner has crashed in central Sinai, killing all 224 people on board on Saturday, October 31, 2015. A video posted on YouTube purportedly showed the Airbus A-321 being hit by a missile, exploding and then plunging to the earth with a long trail of black smoke behind it.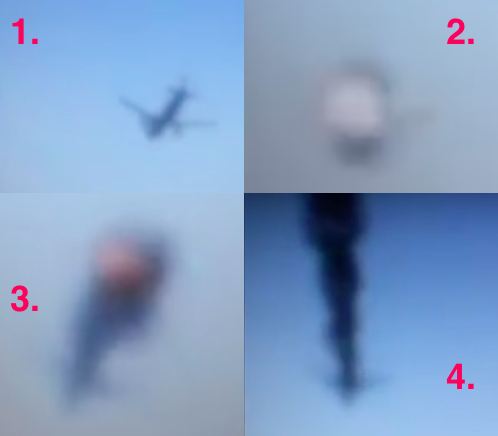 "The soldiers of the caliphate succeeded in bringing down a Russian plane in Sinai," the ISIS affiliate in Egypt said in a statement.
But Russian transport minister downplayed the possibility in a statement to Russian media. "This information cannot be considered accurate," Sokolov said. "We are in close contact with our Egyptian colleagues and aviation authorities in the country. At present, they have no information."
The video, posted on a non-ISIS account, disappeared quickly from Youtube, however Lead Stories captured a version of it.
Egyptian officials say the flight had just taken off from the Red Sea resort of Sharm el-Sheikh on its way to St. Petersburg, Russia. Lead Stories has not yet verified the video, which was detected by our Trendolizer system as trending.
#Egypt #ISIS Claim Responsibility for shot down the Russian Aircraft over Sinai #IS #ISIL pic.twitter.com/tBCRt7Xen1

-- Abu Ibrahim Raqqawi (@raqqa_mcr) October 31, 2015
Translation of statement: "Soldiers of the Caliphate were able to bring down a Russian plane above Sinai Province with at least 220 Russian crusaders aboard. They were all killed, praise be to God. O Russians, you and your allies take note that you are not safe in Muslims lands or their skies. The killing of dozens daily in Syria with bombs from your planes will bring woe to you. Just as you are killing others, you too will be killed, God willing."
London's Guardian newspaper spoke with Center for American Progress analyst Mokhtar Awad, who cast doubt on the claim.
"It doesn't state how they were able to 'down' the plane allegedly. Even the most sophisticated of portable surface-to-air missiles cannot reach that high an altitude and are only a threat during periods of take-off or landing, but the plane had already climbed to its target altitude (from what we know thus far) when it began to likely experience technical failures.
The local affiliate, Wilayat Sinai, has been under some pressure over the past few months and may have jumped the gun on taking credit. Although there isn't a precedent for such a spectacular lie about something they claim to have done, Islamic State itself has recently been embellishing more and more. For instance it claimed that the recent prison raid by Kurdish and US special forces were a total failure, when in fact video evidence surfaced showed them freeing the hostages. So this may be an instance of the rooster taking credit for the dawn."
Lead Stories' Trendolizer scours social nets for trending ISIS content. Scroll down to see the latest.