PoliTide Removes Political Bias From FaceBook: Escape The Bubble With New Mobile App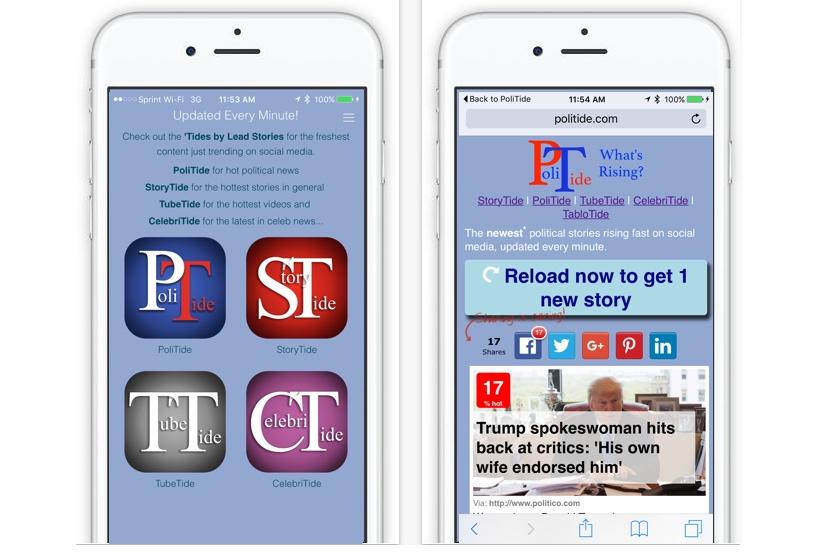 With FaceBook increasingly becoming the main place people get their news, concern grows that news feeds on the social network put Americans in a political bubble. Lead Stories has launched a mobile app that pops the Facebook filter bubble.
PoliTide presents the top 30 hottest political content based only on real social media sharing numbers, without regard to any political bias. The feed is recalculated every 60 seconds using Lead Stories' proprietary Trendolizer engine. Users see these stories even before they are "trending" elsewhere.
Download PoliTide App for iPhone at iTunes
Download PoliTide App for Android at Google Play
FaceBook filters what users see based on what its algorithms calculate they'll like. A tendency to choose FaceBook "friends" who agree with them also narrows the range of views they see on their timeline. And there are allegations that FaceBook staffers purposefully put a liberal slant in its trending newsfeed.
"A political story appears moments after readers start sharing it on social media," said Lead Stories' Editor-in-Chief Alan Duke, a 26-year veteran of CNN. "Our engine constantly records likes, shares and views and recalculates the hottest 30 each minute. We attach a hotness rating, with the hottest at the top of the PoliTide feed."
When there's breaking news in politics, you immediately see it.
"It's addictive," said Duke, who is covering his eleventh presidential election in 2016. "By the time you scroll down the 30 stories and reach the bottom, there are new stories available when you reload. The feed is unlike anyone's Facebook timeline since you will see a full range of political perspectives reflected."
Clicking on a story in PoliTide sends you to the source's website in either a Safari or Chrome browser. Returning to the app's main menu just takes a click back to review more content. "We designed the app to be as simple as possible," Duke said.
The PoliTide app also serves up StoryTide, CelebriTide, TabloTide and TubeTide feeds. StoryTide is the top 30 hottest content overall on social media; CelebriTide covers celebrity content; TabloTide has tabloid stories; TubeTide is for the hottest video.
The PoliTide app is available for download free at the Apple app store for iPhone and at Google Play for Android devices,. Each of the Tide websites can also be accessed outside of the app on a desktop browser.