What A Fireworks Show! Dubai High-Rise Burns, But New Year's Celebration Goes On!
Dubai celebrated the New Year's arrival with a massive fireworks display even as the city's skyline was lighted by flames that engulfed the 68-story Address Hotel.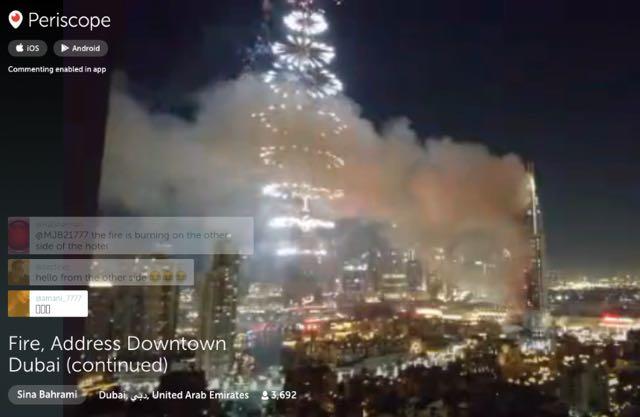 Although it appeared the city was suffering a huge disaster, officials decided to go on with what was perhaps the most spectacular and bizarre New Year's show ever. The most remarkable were ignited nearby at the world's tallest skyscraper, the Burj Khalifa,
The fire reportedly spread from a curtain on a 20th floor room of the hotel and quickly spread throughout the whole structure. Still, officials were downplaying the significance of the blaze, insisting it was 90% contained despite continued explosions and collapsing balconies. They reported on 14 minor injuries and an orderly evacuation.
14 minor injuries,1 moderate&1 heart attack case reported due 2 over-crowding&smoke at the fire site,all received prompts medical assistance

-- Dubai Media Office (@DXBMediaOffice) December 31, 2015
The messages from officials appeared to clash with the visual images. "Internal fire extinguishers are preventing spread of fire inside the hotel," one tweet said, even as the flames appeared to spread internally.
Internal fire extinguishers are preventing spread of fire inside the hotel

-- Dubai Media Office (@DXBMediaOffice) December 31, 2015