Iowa Newspaper: Ted Cruz Won Caucuses With 'Campaign Of Deceit'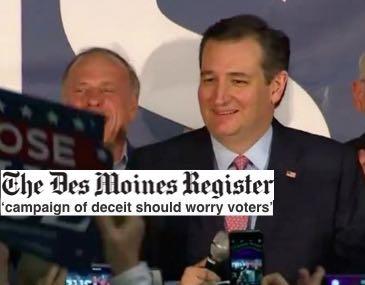 Ted Cruz's big win over Donald Trump in Iowa is tainted by dirty tricks played on voters in the days before and during the Republican caucuses, according to an editorial published Friday in the Des Moines Register.
The editorial details several strategies to help Cruz, who was trailing Trump in most pre-caucus polls, including a mailing that was "a complete lie" and designed to "shame" some voters by giving them "grades" that "that had absolutely no legitimacy."
"I will apologize to no one for using every tool we can to encourage Iowa voters to come out and vote," Cruz later said.
Read also: Donald Trump: Ted Cruz Is 'A Total Fraud' For Dirty Tricks In Iowa
The newspaper also criticized Cruz's campaign for telling voters as at caucus sites and in emails that his chief rival for the religious right support, Ben Carson, was dropping out of the race.
Read also: Dirty Tricks: Voicemails Show Ted Cruz Campaign Spread False News Ben Carson Was Dropping Out
While Cruz apologized the next day to Carson, he stopped short of accepting any blame.
"It seems his biggest weakness may be an inability to recognize -- or at least admit to -- his own failings. That may be the mark of a successful politician, but it's a dangerous character trait for someone who aspires to be president of the United States," the Register's editorial said.
Read the full editorial: Cruz's campaign of deceit should worry voters