State Department Apologizes For Advice To Homely Women: Warned Ladies 'Not A 10' About Travel Scams
A social media manager at the U.S. State Department was just trying to help American women who are not the most attractive our country offers from being scammed by flattering men while celebrating Spring Break abroad.
It is apparently a big problem when ladies think they're average American looks translate into hotness when converted into the local currency of sexiness.
So, trying to be helpful and protective, the State Department's travel advice Twitter account tweeted: "Not a '10' in the US? Then not a 10 overseas. Beware of being lured into buying expensive drinks or worse -- being robbed"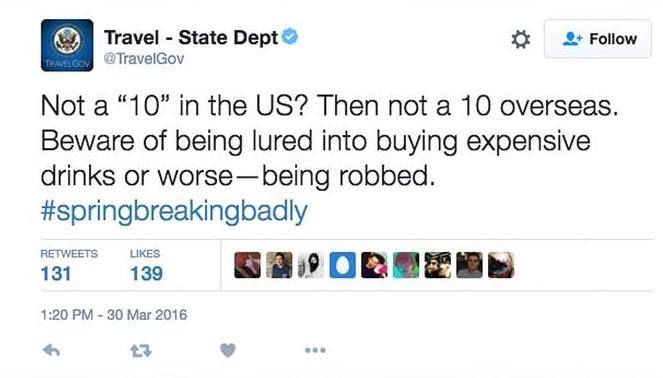 But some people are just too sensitive and took offense. This is the official Obama Administration apology:
Some have been offended by our earlier tweet and we apologize that it came off negatively 1/2

-- Travel - State Dept (@TravelGov) March 30, 2016
We see many Americans fall victim to scams each year & want all to be careful while traveling 2/2

-- Travel - State Dept (@TravelGov) March 30, 2016