Marco Rubio's charge that Ted Cruz is a liar has escalated as the Cruz campaign pushes an obviously fake photo of Rubio smiling and shaking hands with Barack Obama.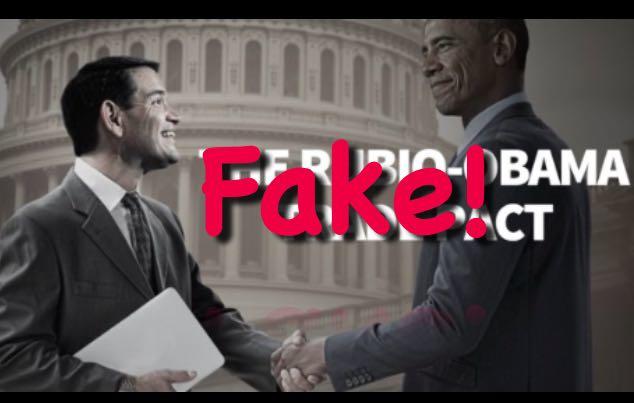 The image, caption "The Rubio-Obama Trade Pact," is meant to tie the Florida senator to the president's signing of the Trans-Pacific Partnership.
A Rubio advisor said the photoshopped image shows how "phony and deceitful" the Cruz presidential campaign is.
Whether this will make any difference in the very contentious race, it is providing for lots of Twitter fun. Here is are a few of the highlights:
"I'll never let go, Ted. I'll never let go." #cruzphotoshop pic.twitter.com/15UpFXqlxY

-- Ashley (@Ashley67311506) February 18, 2016
Are you now or have you ever been a Kenyan, Muslim, Socialist? #CruzPhotoshop https://t.co/e8JyzShUpO pic.twitter.com/yeCfkREKQ7

-- DonkeyHotey (@DonkeyHotey) February 18, 2016
@marcorubio as The Waterboy. #CruzPhotoshop pic.twitter.com/DfRcValOdc

-- Justin (@JustCrum79) February 18, 2016
Would I lie to you? #CruzPhotoshop pic.twitter.com/MlP6XfeEeT

-- Potatofiend (@potatofiend) February 18, 2016
Playing in your local theater!#CruzPhotoshop pic.twitter.com/uiv5Ok1N6k

-- CRUZ LIES (@CruzLies) February 18, 2016
Brace yourselves. More #CruzPhotoshop pics are coming! pic.twitter.com/SBQBDckLIF

-- Eli Rubenstein (@EliRubenstein) February 18, 2016
Princess Lie-a #CruzPhotoshop pic.twitter.com/IC9KlAObco

-- TracyJeffords (@TracyJeffords) February 18, 2016
Echoing his slogan, "A time for truth", @tedcruz reveals the true scene of the Lincoln assassination. #CruzPhotoshop pic.twitter.com/hH1HKicCxa

-- MWePolitics (@MWPolitics) February 18, 2016
The Scream. #CruzPhotoshop pic.twitter.com/adPBHlAa6v

-- Joel Luther (@joel_luther) February 18, 2016
I'm sorry. #CruzPhotoshop pic.twitter.com/BNUlhYuejV

-- Joel Luther (@joel_luther) February 18, 2016
Royal Canadian Mountee #CruzPhotoshop pic.twitter.com/MTl79W6EX4

-- TrumpsRug (@Trumps_Rug) February 18, 2016
Mitt and Marco discussing an endorsement. #CruzPhotoshop pic.twitter.com/EpsUJij1Rz

-- Milkshakes Anytime (@MomMilkshake) February 18, 2016