There is a hoax story making the rounds on the internet stating that "a suspect believed to be the 'Zodiac Killer' was arrested in Henderson, Nevada." Though the NOT TRUE story comes from a site that is about nothing more than hoaxes, some people aren't aware of that and continue to share the falsities.
The NOT TRUE story starts with "After 48-years of evading justice, the Henderson, Nevada, Police Department have taken custody of a suspect believed to be the infamous serial killer dubbed the 'Zodiac Killer'." The '48-years' part of the story is correct. Continuing with the HOAX story:
Walter Gotberg, the 74-year old Nevada resident was taken into Henderson P.D custody late Sunday evening. According to police statements, officers arrived at Gotberg's home located in Henderson's Sunnybrook mobile-home community at approximately 7:08 PM. Police Sergeant Colin Leigh told reporters that Gotberg maintained a calm demeanor and did not resist the arresting officers.
Believable, right? Continuing:
According to police records, Gotberg spent the majority of his adult life in and out of correctional facilities for infractions including theft, domestic disturbances, and drug related offenses. Gotberg was paroled from the Henderson County Detention Center on January 4th 2016 after serving 3 years on a domestic violence charge involving his live-in girlfriend Vanessa Patrick. Shortly after Gotberg's January 2016 release from the Henderson County Detention Center, information was provided to Henderson County Detention Center correctional officers by one of Gotberg's fellow inmates implicating Gotberg as the infamous Zodiac Killer. According to statements made by the Henderson County Detention inmate, Gotberg had bragged to him about the 1969 murders and made the comment, "a 3-year sentence is nothing for the crimes I've gotten away with".
And concluding the NOT TRUE story:
According to reports, the inmate's claims were not initially taken seriously by investigating officers as according to investigating officer Matthew Carlson, "several people have unsuccessfully claimed responsibility for the Zodiac murders over the past 4 decades". According to police reports, Walter Gotberg wasn't officially listed as a suspect in the unsolved murders until laboratory results provided a match between Gotberg's DNA and the DNA profile created by saliva found on stamps and envelopes used by the Zodiac Killer to send cryptic messages to media reporters and police.
The image of the man "suspected" to be the 'Zodiac Killer' is actually a stock image from 2014 that is regularly used on Australian bar websites. As for the sketch used in the HOAX story, it is the infamous sketch of the 'Zodiac Killer.'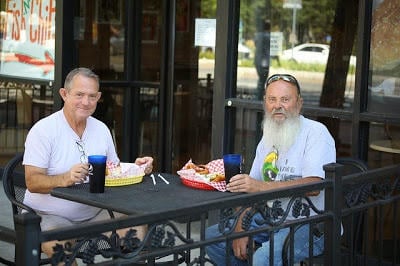 Lead Stories' Trendolizer™ is constantly scouring the web for the hottest news, viral videos and images.
Follow us on Facebook and Twitter @LeadStoriesCom for your daily news.