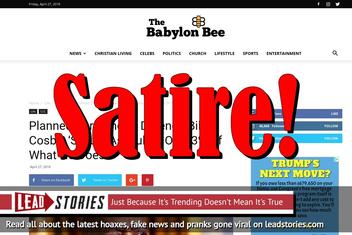 Did Planned Parenthood defend Bill Cosby by saying sexual assault is only 3% of what he does? No, that was a bit of satire from a Christian themed humor website mocking Planned Parenthood's own claim that abortions are only about 3% of their services.
The story originated from an article published on April 27, 2018 by The Babylon Bee titled "Planned Parenthood Defends Bill Cosby: 'Sexual Assault Is Only 3% Of What He Does'" (archived here) which opened:
NEW YORK, NY--While almost nobody is willing to defend Bill Cosby any longer after he was convicted of sexual assault Thursday, the former television star and comedian found an ally in abortion provider Planned Parenthood.

President Cecile Richards came forward to claim that since sexual assault is only about 3% of what Bill Cosby performed over his long and illustrious career, the egregious offenses should be overlooked.
But "The Babylon Bee" comes with following dislaimer on every page:
The Babylon Bee is Your Trusted Source For Christian News Satire.
Some of their greatest past hits include:
With a track record like that it is clear that you shouldn't take anything posted on the site seriously and you definitely shouldn't confuse it with real news.
We wrote about babylonbee.com before, here are our most recent articles that mention the site: