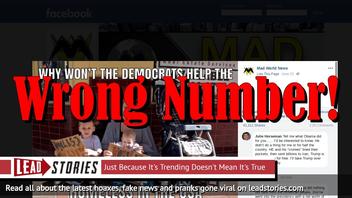 Are there 2,483,539 homeless children in the United States of America and are the Democrats refusing to help them? No, that's not true. The number appeared in a meme on a Facebook page but it is completely out of touch with reality.
The meme with the number was posted on June 23, 2018 by a Facebook page named "Mad World News" (archived here) and it read:
Why won't the democrats help 2,483,539 children homeless in the USA?
The main reason would be that there aren't 2,483,539 homeless children in America. In fact, the Department of Housing and Urban Development (HUD) estimated in a report there were about half a million homeless people in total in 2017. And not all of them lived on the street, most of them were in shelters or transitional housing. The report stated there were 192,875 people without current shelter in total in the entire U.S.A. (including all states, territories, Puerto Rico and the District of Columbia). Out of the entire homeless population about 115,000 were children under 18 and about 10,000 of them were listed as "unsheltered".
Still a big problem that should be fixed as soon as possible but the size of the problem is a lot smaller than what the meme claimed and there is no evidence Democrats are refusing to help them.