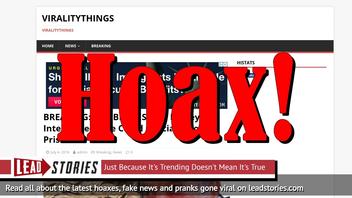 Was $1.8 billion of George Soros' money just intercepted and is he going to prison for years over it? Not really, the headline is entirely made up, there is no truth to it at all. It was used by a scammy website being run from Eastern Europe that hopes to profit from gullible Trump supporters by feeding them fake headlines via dozens of pro-Trump Facebook groups and hoping they will click through to the website operated by the scammers so they can earn some money through advertising.
The story originated from an article published by ViralityThings on July 4, 2018 titled "BREAKING: $1.8 BIL Of Soros' Money Just Intercepted - He Could Officially Go To Prison For Years" (archived here) which opened:
George Soros is at it again throwing his money around and trying to manipulate political races. This time he's trying to reshape the nation's criminal justice system.

Soros thinks he can do this by dumping $1.8 billion into four of the 56 district attorney positions in California up for grabs June 5th. This is the same kind of tactic he used to grab control of attorney generals in varying states.

Soros isn't the only one either. Wealthy progressive liberal donors are also pouring millions of dollars into these races.

Liberal groups are offering their support to would-be prosecutors who favor lower incarceration rates, crackdowns on police misconduct and changes in a bail system that they argue discriminates against the poor, the Los Angeles Times reported.
The rest of the article doesn't mention the sum of $1.8 billion dollars at all and also fails to explain how, why and where it was supposedly "intercepted" or why that would land George Soros in prison.
In fact, most of the rest of the article is blatantly copy-pasted from this L.A. Times article (archived here in case you live in Europe) which doesn't mention $1.8 billion or Soros going to prison either:
In most district attorney elections, the campaign playbook is clear: Win over the local cops and talk tough on crime. But in California this year, the strategy is being turned on its head. The effort is part of a years-long campaign by liberal groups to reshape the nation's criminal justice system.
The website viralitythings.us was only registered in April by someone from Albania or Kosovo:
Domain Information
Domain: viralitythings.us
Registrar: NameCheap, Inc.
Registration Date: 2018-04-09
Expiration Date: 2019-04-09
Updated Date: 2018-04-14

Registrant Contact
Name: Meriton Pacolli
Street: Prishtin
City: Prishtin
State Kosovo
Postal Code: 10510
Country: AL
Not exactly your most reliable source of news when it comes to Hollywood or politics...
The Soros article was posted in at least 13 pro-Trump Facebook groups on July 4, 2018 by sockpuppet accounts according to Facebook's CrowdTangle tool.
We wrote about viralitythings.us before, here are our most recent articles that mention the site: