STORY UPDATED: check for updates below.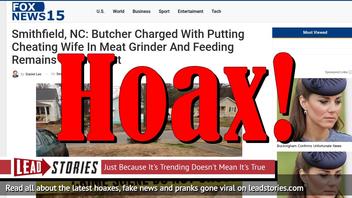 Was a butcher from Smithfield, North Carolina (or some other location) charged with putting his cheating wife throught a meat grinder and then feeding the remains to their cat? No, that's not true: the story was pushed by the latest in a long string of websites pretending to be official U.S. news outlets but which only push made up stories to earn money through advertising. The story is not real.
The story originated from an article published by a site pretending to be Fox News 15 on December 17, 2018 titled "Smithfield, NC: Butcher charged with putting cheating wife in meat grinder and feeding remains to their cat" (archived here) which opened:
A 38-year old Smithfield North Carolina butcher has been charged with the brutal killing of his wife, a 32-year old woman, after he allegedly used a meat grinder to dispose of her remains - and then feed it to their cat.

The woman's family raised the alarm after growing suspicious when she failed to respond to any of their calls or messages. Investigators called on the couple's residence and noted a large quantity of "strong-smelling meat" in a food bowl for the cat.

"The investigators were suspicious and took a sample of the meat," said one source. "They also interviewed the husband who claimed his wife had left without any notice to visit relatives in another state for Christmas. However, they found her phone and purse in the main bedroom which suggests she met with foul play"
However the website was only registered a few weeks ago and has nothing to do with the real Fox News:
Domain Information
Domain:foxnews15.com
Registrar:NameCheap, Inc.
Registered On:2018-11-26
The site is part of a larger network of sites all designed to look like news sites from real U.S. news and entertainment brands. Older sites we identified as being part of this network include:
www.abcnews-us.com
www.boston-post.com
www.coindesk-us.com
www.foxnews-us.com
www.si-nba.com
www.thenyherald.com
www.tmz-us.com
www.us-nbcnews.com
www.vice-en-us.com
www.yahoonews-us.com

www.abcnews5.com

www.boston-post.com
www.cbsnews24.com
www.fox-26houston.com
www.fox-32chicago.com
www.thenyherald.com
The current site shares several advertising network ID codes with other sites in this network and uses the same WordPress template previously used by several other of the older sites (including the telltale misspelling of "science" as "sciens" in the footer).
Stories published by the network are often copied or inspired by older hoaxes from other satire or fake news sites but the quality of the writing is usually markedly better. The setting of the events is often some small town somewhere in the United States and in many cases the main illustration used is a picture found on the internet showing a police car from the local police force or a sign with the town's name on it. The same story is often re-used by changing the location and/or names of the people involved.
In this particular case the Smithfield story was illustrated with a crime scene photo from a 2013 shooting:
Three people were shot Thursday afternoon in the 500 block of Mill Street in Smithfield, according to investigators. Police said there were dispatched to 509 Mill Street for a disturbance call around 1:42 p.m. and then later learned that numerous shots had been fired as well.
We have contacted the Smithfield police department for comment and will update this article if they respond.
2018-12-17T21:44:17Z

2018-12-17T21:44:17Z

The Smithfield Police department confirmed to us the story was not true:

Yes this is a hoax, the we are not working a investigation of this nature. Please feel free to contact Capt. Sheppard our public information officer if you have any other questions.