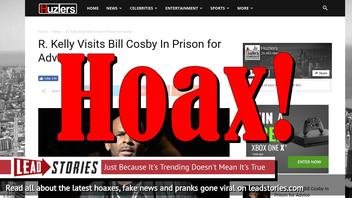 Did singer R. Kelly visit Bill Cosby in prison for advice? No, that's not true: the story was made up by a "fauxtire" site for entertainment purposes. It is not real.
The story originated from an article published by Huzlers on January 9, 2019 titled "R. Kelly Visits Bill Cosby In Prison for Advice" (archived here) which opened:
Pennsylvania Dept. of Corrections - Reporters have confirmed that R. Kelly visited Bill Cosby shortly after the release of the lifetime documentary, "Surviving R. Kelly." The documentary exposes R. Kelly as a predator and sexual abuser.

"It was just the tip, you know?" he explained to Cosby.

"I hear you man," Cosby responded.
R. Kelly has been under fire recently after a documentary aired with abuse allegations made against him:
Prosecutors in Chicago and Atlanta appeal for new information after allegations of abuse are made in documentary about R&B star, who has long denied wrongdoing
Bill Cosby was convicted of sexual assault last year, so he could probably give R. Kelly some tips (although we are not sure if they would help him much):
April 26, 2018 Iconic entertainer Bill Cosby was convicted on three counts of sexual assault Thursday, a decision that punctuates one of the most thundering falls from grace in American cultural history.
But Huzlers styles itself as a "fauxtire" website and carries a disclaimer at the bottom of each page:
Huzlers.com is the most infamous fauxtire & satire entertainment website in the world. If it's trending on social media you'll find it here!
According to Splinter News the site is run by Pablo Reyes and David Martinez and according to Buzzfeed Reyes is involved with several other fake news websites. They tend to shy away from political stories, opting instead to write for a more "urban" audience, with stories about rappers, criminals and celebrities.
We wrote about huzlers.com before, here are our most recent articles that mention the site: