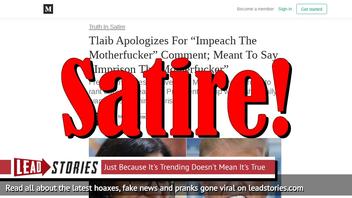 Did Rashida Tlaib apologize for her "impeach the motherfucker" comment against President Donald Trump and did she mean to say "imprison the motherfucker" instead? No, that's not true: the viral story making that claim came from a satirical blog. It is not real.
The story originated from an article published by Allan Ishac on his Medium blog on January 5, 2019 titled "Tlaib Apologizes For "Impeach The Motherfucker" Comment; Meant To Say "Imprison The Motherfucker"" (archived here) which opened:
Newly sworn in Representative Rashida Tlaib apologized on Saturday for a profane comment she made to her supporters last week about Donald Trump, when she said, "... we're going to go in there and we're going to impeach the motherfucker."

In a correction over the weekend, the liberal congresswoman said, "It was wrong to yell out 'impeach the motherfucker,' when I actually meant 'imprison the motherfucker.' Or maybe impeach and imprison. Or maybe impeach, imprison, and then hang the motherfucker as a traitor. Or maybe impeach, flog, and deport the bastard to Russia. Along with his culpable family and all his criminal cabinet members and cronies. In any case, I misspoke."
Users on social media only saw this title, description and thumbnail:
Freshman representative from MI says it was wrong to rant about impeaching President Trump when she really wants to send him to prison
But the story itself was published under a header that read "Truth In Satire". No reliable sources made any mention of any sort of apology from Tlaib.