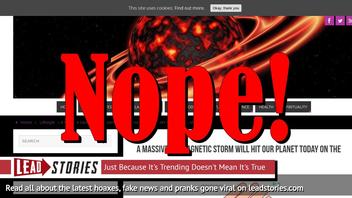 Did Russian scientists warn that a massive geomagnetic storm would hit Earth on March 18, 2019? No, that's not true: The Russian Academy of Sciences noted chances of a low-level storm reaching our planet, but several websites exaggerated the outlook in screaming headlines that were false. One of the original reports that these sites based their stories on issued a clarification, but the copycats did not.
One example of the false story is an article published on March 18, 2019 titled "A Massive Geomagnetic Storm Will Hit Our Planet On the 18th of March" (archived here) which opened:
According to some scientists at the Russian Academy of Sciences, a huge magnetic storm is making its way here in current times. As some have said, this storm is going to cause headaches and dizziness in people all around the world.

According to RAS's graph, three days before the storm - the 15th, 16th, and 17th of March, we were supposed to experience intense geomagnetic altercations. Once this storm reaches us today, on the 18th of March, things might become a bit odd. It could also disrupt GPS navigations, satellites and even harm power grids across the globe.
Users on social media only saw this title, description and thumbnail:
Several of the scary stories were based on a story posted a year earlier by DenOfGeeks.com titled: "Upcoming Magnetic Storm Might Keep You Up At Night." That website updated it with a clarifcation and apology on March 11, 2018.
A previous version of this story indicated that the upcoming solar event is a large magnetic storm, when in fact, it is a G1, the smallest classification for a geomagnetic storm and thus unlikely to interfere with any electrical equipment here. We also erroneously reported that the sun is entering an increased period of solar activity. We apologize for the errors, and we'll be more careful going forward. Our thanks to those who offered corrections.
The seed of the series of false reports may be a legitimate story published a year ago by the Russian news agency RT.com headlined: "A strong magnetic storm will hit the entire planet on March 18." That report was for a 2018 warning.
The Russia Academy of Sciences maintains a website where you can keep track of such warnings. Click here to visit.
We wrote about thewildchild.co.za before, here are our most recent articles that mention the site: