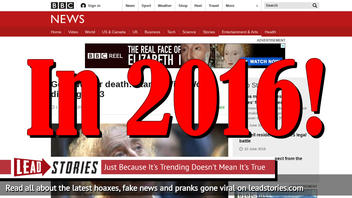 Did Willy Wonka actor Gene Wilder recently die at the age of 83? No, that's not true: Wilder died due to complications from Alzheimer's disease at the age of 83 on August 29, 2016.
Stories of Wilder's death began trending again on social media nearly three years later as many people mourned the actor's passing yet again with sad R.I.P messages shared along with originated from an article from the BBC (archived here) that was originally published on September 1, 2016 under the title "Gene Wilder death: Star of Willy Wonka dies aged 83". Two of the very late tributes read:
Another great actor and comedian goes to God! Rest in Peace Gene! I loved your work and your sense of humor.

Rest In Peace with Gilda. I'm not sure when he was diagnosed with Alzheimer's, but I know it's a hard way to live. Love him, love Gilda.
This is an example of what social media users saw on June 9, 2019, nearly three years after Wilder's death:
This is what the BBC reported in 2016:
US actor Gene Wilder, remembered by many for his lead role in Willy Wonka & the Chocolate Factory, has died at the age of 83, his family has confirmed.

The comic actor also starred in classic films such as The Producers, Blazing Saddles and Young Frankenstein.

Wilder frequently collaborated with writer and director Mel Brooks as well as stand-up comedian Richard Pryor.

The actor died on Sunday in Stamford, Connecticut, due to complications from Alzheimer's disease, his family said.
Sharing celebrity deaths with Facebook friends is such a popular activity that some people forget to check the date before posting condolences. In recent days, this happened with boxing legend Muhammad Ali on the third anniversary of his death: