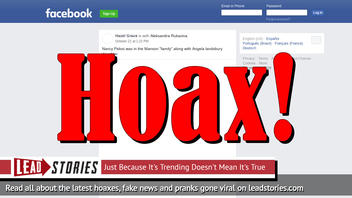 Was a young Nancy Pelosi a member of the Charles Manson family, along with Angela Lansbury's daughter? No, that's not true: Pelosi was a 29-year-old married mother of five living in Washington, D.C., when she purportedly posed in a photo with Manson cult members at a Southern California ranch in May 1969. Angela Lansbury has confirmed her daughter knew Manson when she was a teen.
The false claim is in a meme (archived here) circulating on social media, including a post shared on October 21, 2019 using a real photo of Manson cult members under the title "Nancy Pelosi was in the Manson 'family' along with Angela landsbury daughter". It opened:
Come and say you love me!

A young Nancy Pelosi at the Spahn Ranch, May 1969
This is what social media users saw:
This false meme used a real photo of nine Manson cult members from 1969: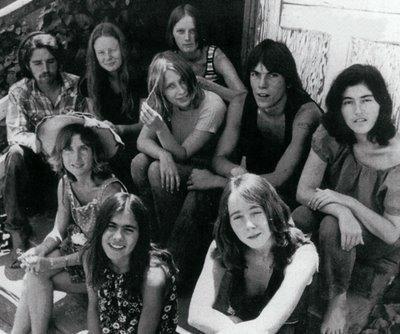 The idea that Pelosi was a Manson follower grew from a satirical story titled "Helter Skelter Shocker! Sexy Nancy, What Have You Done!" published by VeryErsatzNews.com on March 2, 2018. It opened:
Anti-American, pro-illegal-alien Congresswoman Nancy Pelosi (D-CA) has denied reports that she was a member of the maniacal Manson Family hippie death cult responsible for the gruesome Tate-LaBianca murders in August, 1969, or that she was head-over-heels in love with cult leader Charles Manson, as reported by TMZ Wednesday.

The former Soul Train dancer explained to reporters late Thursday that although she dated guitarist and Manson lieutenant Bobby Beausoleil "briefly" in 1968, and "may" have hung out with The Family at the Spahn Ranch off and on for several weeks in the Spring of 1969, the amount of Jimsonweed, military-grade LSD, STP, and MDA she was doing has "clouded" her memory.
TMZ never reported anything about Pelosi and Manson. Pelosi never was a Soul Train dancer and she never dated Beausoleil. It was a joke that has since been shared by a long list of conservative Facebook pages as true.
Nancy Pelosi was born in Baltimore, Maryland, on March 26, 1940. She was 29 years old in May 1969. Pelosi, her husband, and five children moved from Washington, D.C., to San Francisco, California, that year. The Spahn Ranch, where Charles Manson's family was then based, was nearly 400 miles away in Los Angeles County. This is what the Encyclopedia of World Biography says about that period of Pelosi's early career:
Pelosi earned her degree from Trinity in 1962, and then served as a congressional intern for a Maryland senator. She thought about law school, but followed the more traditional path for a young woman of her era, that of marriage. Her husband, Paul Pelosi, was a recent Georgetown University graduate and a native of San Francisco. The couple settled in the New York City area, where Pelosi' new husband worked as a banker. She began raising a family, and was the mother of five by 1969, the same year the family moved across the country to San Francisco.
Charles Manson became notorious after his followers were arrested for two sensational murder sprees he ordered in Los Angeles on August 8th and 9th, 1969. Although Angela Lansbury's daughter was not involved in those crimes, the actress confirmed in a Daily Mail interview that her daughter got involved with drugs as a teen and she did know Manson and some of his followers:
It started with cannabis but moved on to heroin. There were factions up in the hills above Malibu that were dedicated to deadly pursuits. It pains me to say it but, at one stage, Deidre was in with a crowd led by Charles Manson. She was one of many youngsters who knew him - and they were fascinated. He was an extraordinary character, charismatic in many ways, no question about it.
The claim that Pelosi, who later became the first woman to be speaker of the U.S. House of Representaives, was a Manson family member is false.