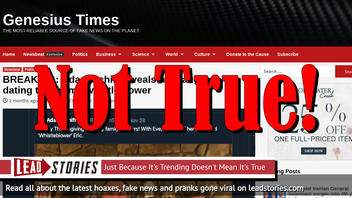 Did Democratic U.S. Rep. Adam Schiff of California reveal that his daughter is dating the alleged whistleblower whose complaint against President Trump launched the impeachment inquiry? No, that's not true: The story is a hoax, and the website that posted it is known for creating satirical content. Its slogan is, "The most reliable source of fake news on the planet."
The claim originated from an article (archived here) published by Genesius Times on December 2, 2019, under the title "BREAKING: Adam Schiff reveals his daughter is dating the Trump whistleblower." It opened:
In a Tweet, Rep. Adam Schiff wished everyone a happy Thanksgiving from him, his wife, his daughter Alexa, and her boyfriend 'whistleblower' Eric.

Many were confused by the Tweet. Was it a joke, or an inadvertent public disclosure.

Schiff has assured us that his daughter's boyfriend "whistleblower" Eric isn't the same Eric that he didn't know the identity of during the Trump impeachment hearing.
Users on social media saw this:
https://t.co/WqnkcnrLGS

Just found this online

-- Justin Hill (@Hillyea) February 1, 2020
The story linked to a tweet from Schiff, a House Manager during the Trump impeachment inquiry, wishing everyone a Happy Thanksgiving with a family photo, which included his daughter's boyfriend, Eric.
Happy Thanksgiving from my family to yours! With Eve, Alexa and her boyfriend Eric. pic.twitter.com/eTbuKFKW5Z

-- Adam Schiff (@RepAdamSchiff) November 29, 2019
The article has also been altered in the form of a meme, though it misspells the last name of the man that social media posts widely allege to be the whistleblower.
Trump has called for the media to release the whistleblower's identity. Whistleblowers are federally protected against retribution, and mainstream news outlets have so far refused to reveal his or her name.
While the photo is authentic, Politifact has already debunked the claim that Schiff's daughter is dating the alleged whistleblower. It rated the post "Pants on Fire!"
The author of the site, which purposely misspells Genius in its name, is made-up. Exavier Saskagoochie does not exist.
We wrote about genesiustimes.com before. Here are our most recent articles that mention the site: