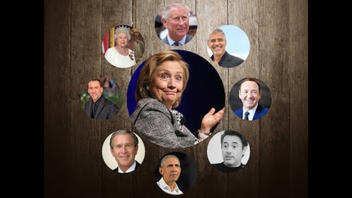 Has Donald Trump rounded up, imprisoned and executed former President Bill Clinton, former Secretary of State Hillary Clinton, and scores of other notable people without anyone noticing or sounding the alarm? No, that's not true: Each person on the arrest and execution list has been recently seen in public and the conspiracy claim that those appearances are explained by body doubles or holograms is not rational.
The claims appeared in a video published by the "Alice Down The Rabbit Hole" YouTube channel on July 6, 2020, titled "Updated Lists of @rrests & X-ecutions" (archived here). The video starts with a sales pitch for "hero" soap, and then the narration switches to a robo-voice reading of a scrolling list:
From King Smarty on Twitter: Arrest/Execution 6/29/20 List

Note: Please use your best discernment. None of these names will be comgirmed(sic) or denied until at least early next year by Trump, or so it is thought. For this is an ongoing operation. No Source Intel alailable. Take away what you want from it. Please don't ask. (Rique Seraphico)

If anyone has been executed or arrested, yet we still see them in media or in person, it means the following:

1. Clones or a double
2. CGI or hologram
3. Old pre-recorded footage
4. Mandatory appearances

Just because you don't see someone's name it doesn't mean they haven't been arrested or executed.
We'll update as soon as information becomes available.
Click below to watch the video on YouTube:

On July 16, 2020, Chelsea Clinton tweeted this cheeky response to the rumor that her parents were dead.
Don't worry everyone. I just checked and whew, my parents are fine despite apparently being hung March 28th (👋 mom @HillaryClinton) and shot at some unspecified time (👋 dad @BillClinton).
This is deranged and dangerous. It has to be laughed at and taken seriously. https://t.co/hYnzXQNR01

-- Chelsea Clinton (@ChelseaClinton) July 16, 2020

Hillary Clinton appeared live on MSNBC on Monday, July 20, 2020, to talk about current events, which serves as excellent "proof of life."
These are two tweets from "King Smarty" (it is his copy of a list is that is featured in the "@rrests & X-ecutions" video). Here he is publicly replying to Hillary Clinton on Twitter, calling her dead. These tweets (here and here) are (archived here and here).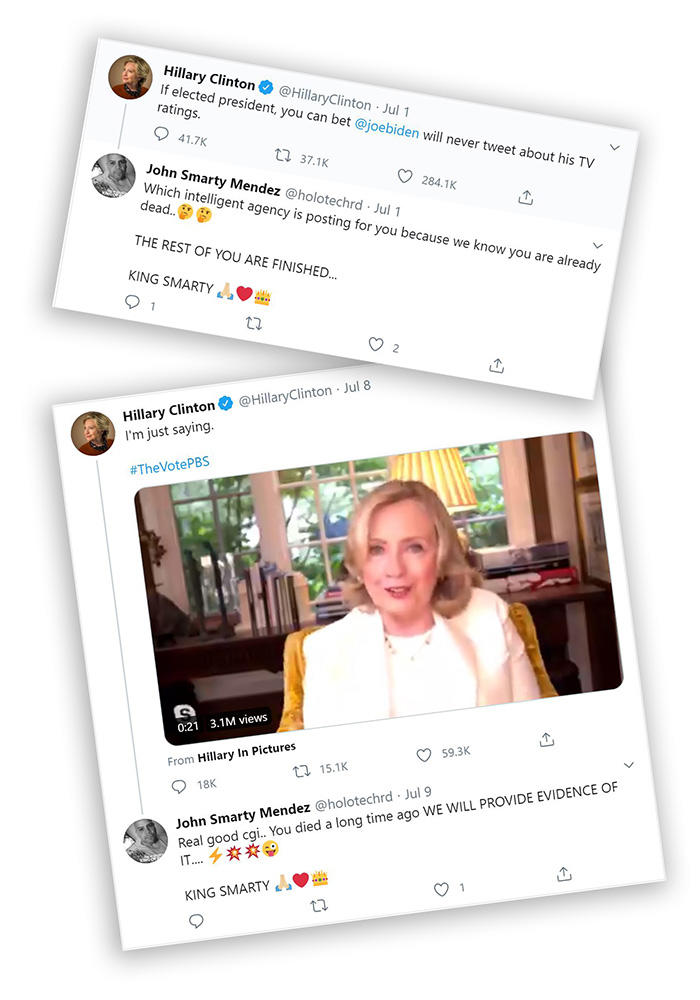 In the "@rrests & X-ecutions" video from Alice Down The Rabbit Hole, it is at the 02:30 minute mark where the Clintons are mentioned:
HILLARY CLINTON ARRESTED & EXECUTED
BILL CLINTON ARRESTED & EXECUTED
At the 04:00 minute mark the robo-voice lists:
POPE FRANCIS ARRESTED & EXECUTED
ALL CARDINALS AT VATICAN ARRESTED & EXECUTED
QUEEN ELIZABETH ARRESTED & EXECUTED
PHILLIP WINDSOR ARRESTED & EXECUTED
CHARLES WINDSOR ARRESTED & EXECUTED
JUSTIN TRUDEAU ARRESTED & ON HOUSE ARREST

Queen Elizabeth and Prince Phillip were recently photographed at the wedding of Princess Beatrice and Edoardo Mapelli on Friday, July 17 2020. A high resolution copy of the official wedding picture was shared by HelloMagazine.com (here)(archived here). Although Prince Charles and Camilla were not present for the wedding, they were photographed on July 20, 2020, dedicating a footbridge in Cornwall. This article, "Duchess of Cornwall reveals surprising fear during Cornwall trip" in HelloMagazine features still photos as well as video of the couple.(here)(archived here)
Princess Beatrice and Mr Edoardo Mapelli Mozzi celebrated their wedding with their closest family.

📷 The happy couple are pictured with Her Majesty The Queen and The Duke of Edinburgh. Photograph by Benjamin Wheeler. pic.twitter.com/Ztw1Kk0eRy

-- The Royal Family (@RoyalFamily) July 18, 2020
On July 19, 2020, Pope Francis delivered the Angelus Prayer to the people gathered in St. Peter's Square. This video is provided by the Vatican News Channel from Vatican City.

The title of this video, "@rrests & X-ecutions" uses character substitutions which seem to be an attempt to hide from searches, or it is merely an attempt to make the video appear more mysterious. Searching youtube for "@rrests & X-ecutions" and "Arrests and Exectutions" brings up many duplicate copies of this Alice Down The Rabbit Hole video as well as other unique productions featuring various presentations of these lists.
On July 13, 2020, the Alice Down The Rabbit Hole channel posted another video (here)https://youtu.be/QJ2QVG1kqwY (archived here) https://archive.is/wip/DOieK titled, "The Latest Lists of Mass @rrests & X-ecutions" which contains a list of over 180 people's names.
On July 16, 2020, they published yet another video (here)(archived here) this one titled, "Who's Next?" Fifteen celebrities are listed, and the video includes photos of them posed alongside people who were named in the other lists as having been arrested and executed. The video is captioned:
Famous people who have not made the arrests or execution lists, but in my opinion, I think they will. Who do you think will soon make the list?
Included in the, "Who's Next" video is a photo of Chelsea Clinton and her mother.