STORY UPDATED: check for updates below.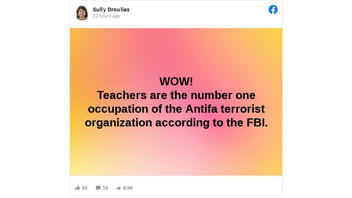 Did the FBI report teachers are the number one occupation of Antifa activists? No, that's not true: The FBI responded to Lead Stories' inquiry by saying it does not categorize by occuptation the adherents of any ideology. The FBI website's list of press statements, testimony and speeches does not include any material that breaks down members of the antifascist group by occupation.
The claim appeared as a meme in a post shared on Facebook on July 8, 2020, (archived here) with the following text:
WOW! Teachers are the number one occupation of the Antifa terrorist organization according to the FBI.
This is what the post looked like on Facebook at the time of writing:
(Source: Facebook screenshot taken on Wed Jul 8 17:04:03 2020 UTC)
Other than the baseless "according to the FBI," the meme offered nothing to back up its statement.
Responding to Lead Stories' question, an FBI spokesperson said:
"The FBI has not made any such statements about the occupations of people who are attracted to particular ideologies."
Using the terms "Antifa, antifascist and fascist" Lead Stories searched the FBI's public database for 2019 and 2020 and found no press releases, congressional testimony nor speeches using any of those terms.
The FBI does not compile a public list of domestic terror organizations the way the State Department uses the foreign terrorist organizations list to apply pressure on governments, corporations and individuals who support terrorism, which U.S. law (22 USC § 2656f(d)(2) defines as follows:
Terrorism means premeditated, politically motivated violence perpetrated against noncombatant targets by subnational groups or clandestine agents
An expert on domestic extremists, Brian Levin, director of the Center for the Study of Hate & Extremism at California State University, San Bernardino, says he has found no such FBI report on Antifa:
The FBI does not categorize 'Antifa' as an organization, although in some localities there are informal local networks. Nor, has the FBI or media, released any public reports, to our knowledge, that enumerate "membership" in Antifa or more specifically a breakdown by occupation. However, some of America's most outspoken apparent Antifa adherents or supporters are educators who have appeared on national television over the years on shows like Meet the Press and Tucker Carlson. These include Yvette Felarca, a middle school teacher from Berkeley, who was sentenced to community service for striking an alleged Nazi at a violent 2016 Sacramento rally and a college lecturer named Mark Bray, who is the author of the 'Antifa: The Anti-Fascist Handbook,' a popular book in the movement.
Howard Graves, a research analyst at the Southern Poverty Law Center said he has encountered no such FBI report breaking down Antifa members by occupation. Based in Montgomery, Alabama, the Center has tracked white supremacist, white nationalist and other domestic terror groups since 1971.
2020-07-09T00:12:51Z

2020-07-09T00:12:51Z

Updated to add response from FBI that it does not categorize by occupation adherents of any ideology, 8:05 p.m. ET.