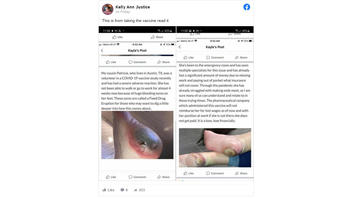 Did a COVID-19 vaccine cause terrible sores to erupt on the feet of one of the participants in the vaccine trial? No, that's not really true: While it is true that this woman is dealing with large painful sores on her feet that have been identified by multiple doctors to be a type of adverse reaction called a "fixed drug eruption," she now understands that the reaction was not caused by the vaccine. She was a participant in the vaccine trial, but was one of the people in the control group who received the placebo: injections of sterile saline. She has tested negative for COVID antibodies, further proof that she had not received the vaccine.
The claim appears in a post (archived here) published on December 4, 2020. The post contains screenshots with the caption:
This is from taking the vaccine read it
This is what the post looked like on Facebook at the time of writing:
(Source: Facebook screenshot taken on Tue Dec 8 15:49:42 2020 UTC)
The screenshots, which show photos of the sores on the woman's feet, were taken from a November 12, 2020, GoFundMe page that was started by the woman's cousin. This GoFundMe (archived here) is now marked as having met its goal. Because the woman, Patricia, was in the control group, she and the doctors who initially saw her did not know whether or not she had received the vaccine at the time that this mysterious thing happened to her feet. The GoFundMe page, which says she lives in Texas, has been updated regularly as new information surfaced. On November 30, 2020, Patricia posted an update with the news that she had only received the placebo.
There's been some breaking news.
The manufacturer of the vaccine is standing their ground stating that they unblinded me and revealed that I was in the placebo arm of the trial.... WHUT???!
Multiple doctors told me this condition was caused by the injection, including a dermatologist and the emergency room attending physician.
What caused this condition is a baffling mystery, as the medications that tend to cause this, are either A. not new to me, for example NSAIDS (acetaminophen, ibuprofen) are things I've been taking for YEARS to manage my back pain, or B. things I don't use (such as anti-epileptics, sulfa drugs, which I am allergic to, and Big Red soda, which I have only had as a kid).
Patricia started a YouTube channel to share updates and to answer some of the questions people have. One of the first videos she posted on November 23, 2020, was to show her feet and her face in the same frame as proof for people who were questioning if the feet with the sores in the photos were really her feet. She says that she has received a lot of bullying and harassment over this.

In the comments section of her November 27 video titled, "Update + more info:)," Patricia explains that she has tested negative with the antibody test. Some people have questioned if she was truly in the control group, or if that was just what she was told. The negative antibody test serves as proof to Patricia that she did not receive the vaccine. She has not had COVID-19 previously -- having the virus would trigger antibody production -- or any other coronavirus test vaccine that might have created antibodies.

The most recent video update about her medical situation was posted to her channel on December 2, 2020, is titled, "FDE update 12/1." This video was filmed after a visit to a podiatrist and she shows off her new footwear. Patricia gives this update:
He agrees that it is definitely fixed drug eruption and finally he's going to send a wound care person, in-home wound care. He agrees it's from the Ketoprofen, which is basically it's like really strong Ibuprofen, prescription Ibuprofen.

I told him the whole lowdown and everything, the whole story, showed him the pictures... and he was like, "Yeah if you got placebo, I don't think so... it's got to be that Ibuprofen/Ketoprofen."
It seems that Patricia has been forthcoming with updates about her medical condition as soon as she got the information herself. According to her own accounts, she and her doctors are dealing with some questions that can be difficult or impossible to answer. The information that was shared on the GoFundMe page at the outset dates from a time that Patricia, her doctors and her cousin did not know that Patricia was a member of the control group in the study and therefore were unaware that she had not received any doses of the COVID-19 vaccine.