STORY UPDATED: check for updates below.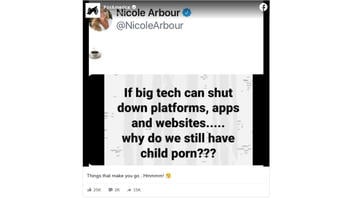 Is "Big Tech" letting child porn distributors freely operate while restricting people who post content that companies like Amazon and Facebook consider to be dangerous falsehoods? No, that's not how it works: No one owns the internet, which is a network of connected computers on which the World Wide Web operates via a common programming code that allows users to search for, display and transfer files.
The big tech companies (Amazon, Apple, Google, Facebook and Microsoft) have direct control over what their users post and they impose rules. Those companies have influence over some sectors of the web because the five of them serve the most search customers, sell the most advertising and other products online and have become synonymous with "The Web." But, there are vast parts of the web -- including the child porn industry and other criminal enterprises-- that operate independently of those companies.
The flawed inference that "Big Tech" can determine what exists on the web has popped up in a number of posts, including this Facebook post (archived here) published January 12, 2021. It opened with: "If big tech can shut down platforms, apps, and websites..." and continued:
why do we still have child porn?
This is what the post looked like on Facebook at the time of writing:
(Source: Facebook screenshot taken on Wed Jan 13 18:52:05 2021 UTC)
Posts questioning the priorities of "Big Tech" have gained virality since Amazon Web Services on January 10, 2021, turned off its hosting services for right-wing social media platform Parler, declaring Parler had violated Amazon's rules against using AWS servers to permit users to share hate speech and threats of violence.
Conservatives, who had switched to Parler in protest against Facebook's aggressive labelling of falsehoods about COVID and the 2020 presidential election, say Amazon is trying to silence conservative speech.
Here's what Amazon wrote in response to Parler's request for a temporary restraining order, which complained Amazon's action was political censorship and an attempt to squash competition:
This case is not about suppressing speech or stifling viewpoints. It is not about a conspiracy to restrain trade. Instead, this case is about Parler's demonstrated unwillingness and inability to remove from the servers of Amazon Web Services ("AWS") content that threatens the public safety, such as by inciting and planning the rape, torture, and assassination of named public officials and private citizens.
Amazon provided examples of posts Parler has permitted to remain visible:
- "#JackDorsey ... you will die a bloody death alongside Mark Suckerturd [Zuckerberg].... It has been decided and plans are being put in place. Remember the photographs inside your home while you slept? Yes, that close. You will die a sudden death!"
- "We are going to fight in a civil War on Jan.20th, Form MILITIAS now and acquire targets."
- "On January 20th we need to start systematicly [sic] assassinating [sic] #liberal leaders, liberal activists, #blm leaders and supporters, members of the #nba #nfl #mlb #nhl #mainstreammedia anchors and correspondents and #antifa. I already have a news worthy event planned."
- "Shoot the police that protect these shitbag senators right in the head then make the senator grovel a bit before capping they ass."
- "After the firing squads are done with the politicians the teachers are next."
- "White people need to ignite their racial identity and rain down suffering and death like a hurricane upon zionists."
The confusion over Big Tech's control of the internet is common, says Jevin West, Director of the Center for an Informed Public, a University of Washington research unit that studies online disinformation and misinformation. "Most people think they (companies like Amazon and Google) own the internet. No one owns the internet," West said in a January 15, 2021 phone interview with Lead Stories.
While it's true the tech titans operate large swaths of the world wide web, which operates on the internet, those companies do not control all that happens on the web, West said. Critics' complaints about Amazon violating the free speech rights of people who post on Parler are off-target. "It doesn't apply because they're a private company and they have every right to take down content that they deem violates their rules."
The Constitution doesn't prevent Amazon from refusing to host Parler, said West's colleague, tech policy expert and law professor Ryan Calo in a January 15, 2021 phone interview:
Amazon isn't a state actor and so, literally, the First Amendment doesn't apply to them at all.
The argument often made about Amazon and Parler -- that conservative Parler posters should be just as protected from Amazon blockage as gay couples are from bakers who refuse to make a same-sex wedding cake -- misses the point two ways, Calo said. Political affiliation is not a protected class in the way that people's immutable characteristics like gender, race and sexuality are. And, the cake debate concerns government's right to require open access to public accomodations (like a bakery) under the Commerce Clause of the constitution. The Amazon/Parler battle boils down to contract law, since the constitution only forbids government, not corporations, from restricting speech. And since Amazon's share of the hosting market is only about 30 percent, it's hard to argue they function as a public utility with monopolistic power, Calo said. Regardless, Amazon hosting is not regulated as a utility.
Meanwhile, those waging war on child porn recently won a battle that demonstrates the kind of control this internet meme imputes to tech companies. Bankers at Visa, Mastercard and Discover decided to stop processing payments to Porn Hub. That's the Montreal-based company that New York Times columnist Nick Kristof, in an investigative series, identified as a major distributor of child porn and rape porn.
Given the allegations of illegal activity, Visa is suspending Pornhub's acceptance privileges pending the completion of our ongoing investigation. We are instructing the financial institutions who serve MindGeek to suspend processing of payments through the Visa network.

-- VisaNews (@VisaNews) December 10, 2020
Lead Stories reached out via email and website contact forms on January 13, 2021 to representatives of the U.S. Department of Justice, other academic experts on child porn and to the tech industry's anti-child-abuse Technology Coalition, none of whom responded by January 15, 2021. If they do respond, Lead Stories will update this report, as appropriate.
(Editors' Note: Facebook is a client of Lead Stories, which is a third-party fact checker for the social media platform. On our About page, you will find the following information:
Since February 2019 we are actively part of Facebook's partnership with third party fact checkers. Under the terms of this partnership we get access to listings of content that has been flagged as potentially false by Facebook's systems or its users and we can decide independently if we want to fact check it or not. In addition to this we can enter our fact checks into a tool provided by Facebook and Facebook then uses our data to help slow down the spread of false information on its platform. Facebook pays us to perform this service for them but they have no say or influence over what we fact check or what our conclusions are, nor do they want to.)
2021-01-15T22:47:06Z

2021-01-15T22:47:06Z

Updated to include comments from the University of Washington's Jevin West and Ryan Calo.