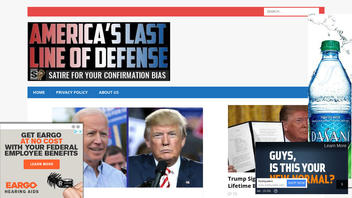 Did leaked visitor logs reveal Adam Schiff visited Epstein Island 78 times? No, that's not true. The story was published by a liberal satire website that tries to mislead Trump supporters and Republicans into sharing made up stories that are clearly marked as satire when you actually click them. Articles from the site are frequently copied by foreign-run fake news websites. The people liking and sharing these stories are enriching foreign website operators or a liberal from Maine via the ad revenue generated with the content which is probably not what they expected or wanted.
The story originally appeared as an article published by America's Last Line of Defense on February 6, 2021 titled "Leaked Visitor Logs Reveal Schiff's 78 Visits to Epstein Isle" (archived here) which opened:
It's no secret that Epstein and Schiff share a long history of perversion. Last year, it was revealed by the FBI that the two corresponded by email on several occasions, totaling 256 emails. But, according to the latest leak, it goes much deeper than just emails.

The reasons for the visits were not recorded, but based on the emails between the two men, we can assume they were for nefarious reasons.

An FBI insider has leaked the extensive visitor logs to Epstein Isle. Several notable names were mentioned in the log, including Bill Clinton, Bill Gates, Jeff Bezos, and Nancy Pelosi. But the most frequent visitor was none other than Adam Schiff, who visited 78 times over the span of five years.
The story was posted under a category named "Democrats Satirically Offending" and the link below Nancy Pelosi's name went to an animated gif of Late Late Show James Corden giving an "OK?" look. There were several other satire disclaimers and hints on the page indicating the story was completely made up, including a quote from (non-existent) investigator Joe Barron:
"What we have discovered over the past few months has been disturbing, to say the least. This goes to very very highest levels. No one could have predicted this. Only the foil hats would have thought this to be possible.

Schiff looks to be the ringleader of the operation, arranging the trades and handled the financing. I can't say anything else since it's a nonexistent investigation, but rest assured justice will be served. In America, no one is above the law, except the rich."
The website that originally published the story is part of the "America's Last Line of Defense" network of satire websites run by self-professed liberal troll Christopher Blair from Maine along with a loose confederation of friends and allies. He runs several websites and Facebook pages with visible satire disclaimers everywhere. They mostly publish made-up stories with headlines specifically created to trigger Republicans, conservatives and evangelical Christians into angrily sharing or commenting on the story on Facebook without actually reading the full article, exposing them to mockery and ridicule by fans of the sites and pages.
Every site in the network has an about page that reads (in part):
About Satire
Before you complain and decide satire is synonymous with "comedy":

sat·ire
ˈsaˌtī(ə)r
noun
The use of humor, irony, exaggeration, or ridicule to expose and criticize people's stupidity or vices, particularly in the context of contemporary politics and other topical issues.

Everything on this website is fiction. It is not a lie and it is not fake news because it is not real. If you believe that it is real, you should have your head examined. Any similarities between this site's pure fantasy and actual people, places, and events are purely coincidental and all images should be considered altered and satirical. See above if you're still having an issue with that satire thing.
Articles from Blair's sites frequently get copied by "real" fake news sites who omit the satire disclaimer and other hints the stories are fake. One of the most persistent networks of such sites is run by a man from Pakistan named Kashif Shahzad Khokhar (aka "DashiKashi") who has spammed hundreds of such stolen stories into conservative and right-wing Facebook pages in order to profit from the ad revenue.
When fact checkers point this out to the people liking and sharing these copycat stories some of them get mad at the fact checkers instead of directing their anger at the foreign spammers or the liberal satire writers. Others send a polite "thank you" note, which is much appreciated.
NewsGuard, a company that uses trained journalist to rank the reliability of websites, describes americaslastlineofdefense.com as:
A network of sites that publish false stories and hoaxes that are often mistaken for real news, run by hoax perpetrator Christopher Blair.
According to NewsGuard the site does not maintain basic standards of accuracy and accountability. Read their full assessment here.