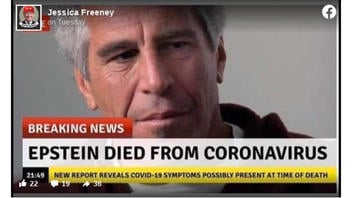 Did a report recently reveal that COVID-19 killed pedophile financier Jeffrey Epstein? No, that's not true: Jeffrey Epstein, who was being held on federal sex trafficking charges, was found unresponsive in a New York City jail cell on August 10, 2019, and soon after pronounced dead, about four months before the COVID-19 virus was found in the U.S. His death was ruled a suicide by hanging by the New York City medical examiner. The first U.S. case of COVID-19 was reported on January 19, 2020, and confirmed on January 21. Although a study testing samples of blood donated a month earlier may indicate COVID-19 was in the U.S. as early as December 2019, there is no question that Epstein died long before any possibility of becoming infected with COVID-19 in New York. This meme was made with a "Breaking News" meme generator, which allows a user to make a meme using any photo and headline.
The meme appeared as early as April 14, 2020, and has resurfaced in a post on Facebook where it was published on July 27, 2021. The captioning, which mimics the style of a breaking TV news chyron, reads:
LIVE
BREAKING NEWS
EPSTEIN DIED FROM CORONAVIRUS
21:49 NEW REPORT REVEALS COVID-19 SYMPTOMS POSSIBLY PRESENT AT TIME OF DEATH
This is what the post looked like on Facebook at the time of writing:
(Source: Facebook screenshot taken on Thu Jul 29 14:47:29 2021 UTC)
Early editions of this meme appeared on April 14, 2020, (here and here) and included a watermark for breakyourownnews.com, a meme generator website that has this disclaimer:
This app is intended for fun, humour and parody - be careful what you make and how it may be shared. You should avoid making things which are unlawful, defamatory or likely to cause distress. Have fun and be kind!
For comparison, below is an example of another meme that was generated by this website with the watermark visible in the upper right hand corner: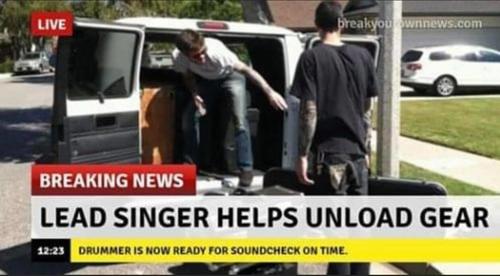 (Source: Facebook screenshot taken on Thu Jul 29 15:37:46 2021 UTC)
Later copies of the meme featuring Jeffrey Epstein have had the website's watermark obscured, so it is not so clear that this was intended to be satire.