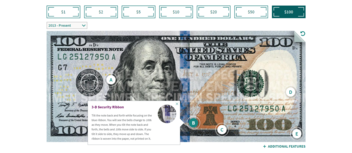 Do $100 bills contain tags in their blue 3-D security ribbons that are connected to devices used by law enforcement? No, that's not true: A representative from the U.S. Department of the Treasury confirmed that the claim is false. Additionally, the bills do not contain any tracking tags.
The claim appeared in an Instagram post (archived here) published on September 9, 2021. It featured a graphic with an image of a U.S. $100 bill and text that read:
PSA TO ALL SCAMMERS STOP GETTING $100 BILLS OUT THE BANK 🤷🏾‍♂️ POLICE & STATE TROPPERS HAVE A DEVICE THAT TELLS THEM EXACTLY HOW MUCH MONEY U HAVE IN UR CAR 🙄 IF U HAVE OVA 10K IN 100'S U MIGHT GET PULLED THE BLUE LINE ON THE $100 BILL IS CONNECTED TO THE DEVICE 🥴 U WILL NEVA C A MEME ABOUT THIS CUZ THEY DONT WANT U ΤΟ ΚΝΟ 🤐
This is how the post looked on Instagram on September 14, 2021:
(Source: Instagram screenshot taken on Tue Sep 14 20:26:09 2021 UTC)
U.S. banknotes do have security features, but those are designed to discourage and prevent counterfeit. Among other features, the $100 bills contain blue security ribbons that run along the height of the bill. According to a resource from the U.S. Currency Education Program, the security ribbons are woven into the bill. They do not contain tracking tags like radio-frequency identification (RFID) tags, which allow for wireless identification of an object. An interactive graphic of the bill contains an explanation of the security ribbons:
Tilt the note back and forth while focusing on the blue ribbon. You will see the bells change to 100s as they move. When you tilt the note back and forth, the bells and 100s move side to side. If you tilt it side to side, they move up and down. The ribbon is woven into the paper, not printed on it.
A screenshot of the explanation is included below: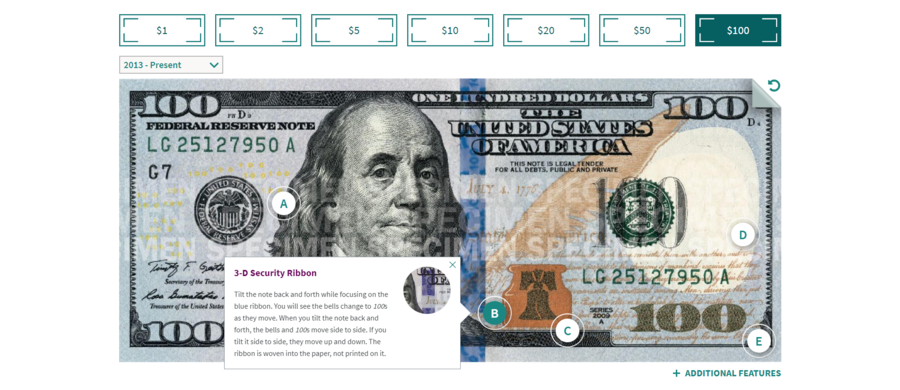 (Source: U.S. Currency Education Program screenshot taken on Tue Sep 14 18:23:58 2021 UTC)
In an email to Lead Stories on September 14, 2021, Teresa Fynes, a representative of the Bureau of Engraving and Printing in the U.S. Department of the Treasury, answered our inquiry about the Instagram post and said:
The information in the link you provided is false.
Fynes also referred us to the U.S. Currency Education Program webpage linked above and provided us with a PDF listing all of the security features of the $100 bill, none of which include tracking tags. A screenshot of the PDF is included below: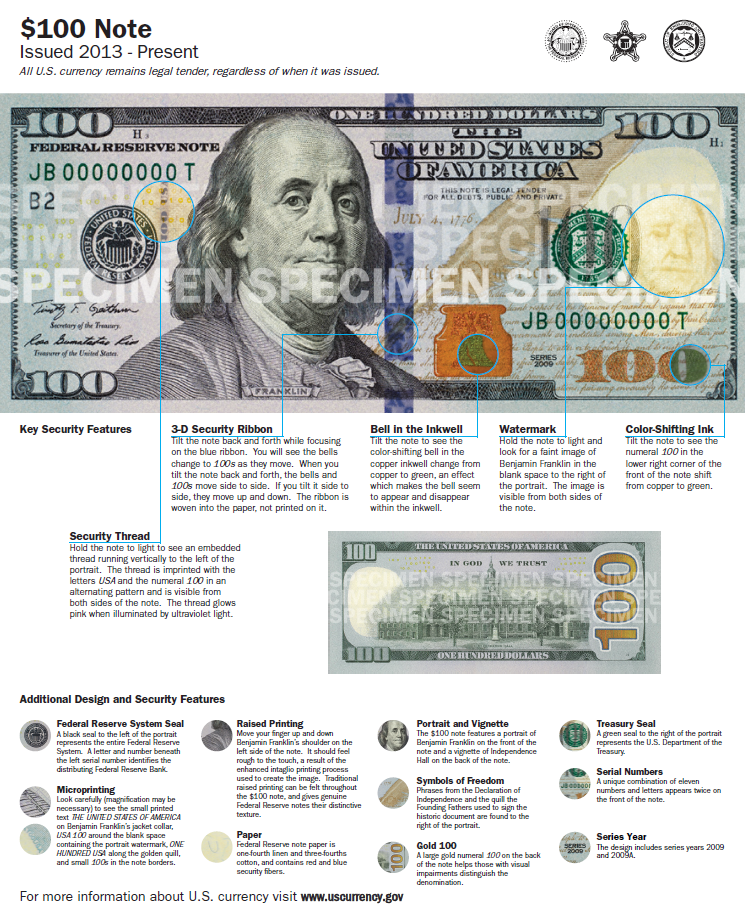 (Source: U.S. Currency Education Program PDF screenshot taken on Tue Sep 14 18:55:30 2021 UTC)