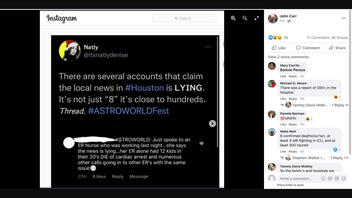 Were there "close to hundreds" of lives lost at the Astroworld Festival on November 5, 2021? No, that's not true: According to the mayor of Houston, Sylvester Turner, eight people were killed and 17 others were injured at the event in a crowd of 50,000 people.
The claim appeared in a Facebook post (archived here) where it was published on November 8, 2021. The post was a screenshot of a tweet and an Instagram comment edited together. The post read:
There are several accounts that claim the local news in #Houston is LYING. It's not just "8" it's close to hundreds. Thread. #ASTROWORLDFest

ASTROWORLD: Just spoke to an ER Nurse who was working last night...she says the news is lying...her ER alone had 12 kids in their 20's DIE of cardiac arrest and numerous other calls going in to other ER's with the same issue😳
This is what the post looked like on Facebook at the time of writing: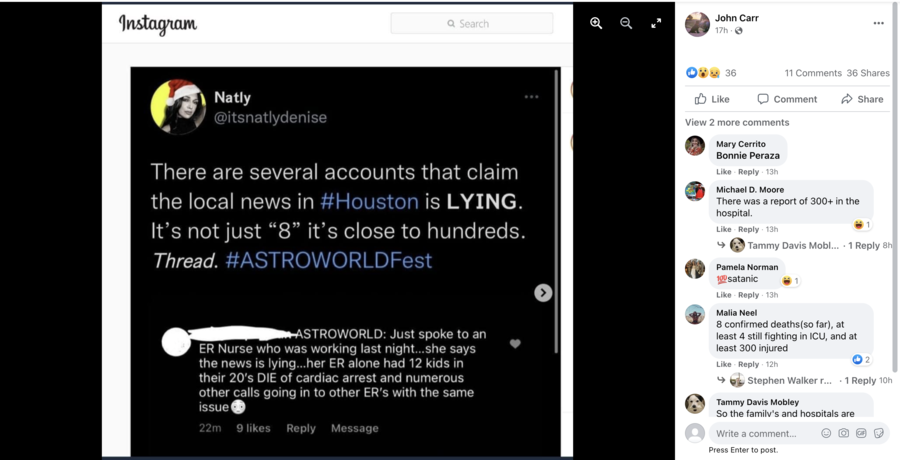 (Source: Facebook screenshot taken on Tue Nov 9 18:30:39 2021 UTC)
Houston Mayor Sylvester Turner released a statement about the Astroworld Festival on November 6, 2021:
"What happened at Astroworld Festival was a tragedy. An estimated 50,000 people attended the event Friday night, expecting to enjoy a music concert with friends and return home safely. I extend my condolences to the families of the eight people who died and the approximately 17 people who were injured at the event. Many of them suffered cardiac arrest.
The full press release is here.
Lead Stories contacted the Houston Police Department to ask if they had an official statement of the number of deaths from the Astroworld festival. The Houston Police Department referred us to the Harris County Medical Examiner. We will update this story if we receive a response from the medical examiner.