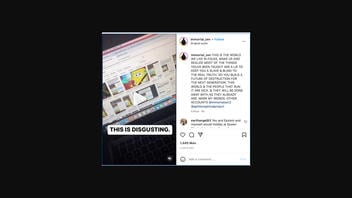 Does the cartoon character SpongeBob SquarePants' driver's license show an address on one of the late Jeffrey Epstein's private islands in a cartoon on the Nickelodeon channel? No, that's not true: A post making the claim never shows or gives a purported address for the cartoon character. And a spokesperson for Nickelodeon tells Lead Stories, "This claim is incorrect."
The claim reappeared in a video in an Instagram post on November 9, 2022. A speaker in the video says:
so I can't say too much but when you look at SpongeBob's driver's license, the address leads to [the video zooms into a laptop screen showing a Google search for 'SpongeBob Epstein island'] OK, go look this up for yourself because I can't really speak on that. Cause I already know they're gonna fact check me
The text alongside the video says:
THIS IS THE WORLD WE LIVE IN FOLKS, WAKE UP AND REALIZE MOST OF THE THINGS YOUVE BEEN TAUGHT ARE A LIE TO KEEP YOU A SLAVE & BLIND TO THE REAL TRUTH. SO YOU BUILD A FUTURE OF DESTRUCTION FOR THE NEXT GENERATION. THIS WORLD & THE PEOPLE THAT RUN IT ARE SICK. & THEY WILL BE DONE AWAY WITH AS THEY ALREADY ARE. MARK MY WORDS. OTHER ACCOUNTS

@immortalzen2

@aphilosophicalproject
This is what the post looked like at the time of writing: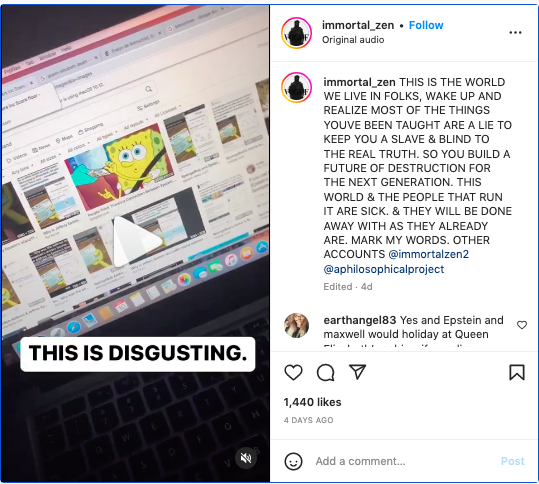 (Source: Instagram screenshot taken on Tues18:13:08 2022 UTC)
Epstein, the former financier and registered sex offender hanged himself in 2019, at the Metropolitan Correction Center in New York City while awaiting trial on federal charges of sex trafficking minors. Until his death, he owned two private islands. But neither island shares an address with SpongeBob SquarePants.
Versions of this claim -- recycled and refuted since at least 2020 -- has said that "124 Conch Street" is the address of a theme park called "Ledges of Little St. James" on one of Epstein's islands, Little Saint James. It's also referred to as "Epstein Island," as well as descriptive nicknames referring to the charges against him of sex trafficking underage girls. Both of Epstein's islands were put up for sale for $125 million for the pair in March 2022 by Epstein's estate.
Lead Stories reached out to Nickelodeon for comment on the November 9, 2022, post. A spokesperson for the channel responded by email on November 15, 2022, saying: "This claim is incorrect."
The opening theme song features a call and response that includes these lyrics: "Who lives in a pineapple under the sea? SpongeBob SquarePants." The official address for his pineapple house under the sea in the cartoon is 124 Conch Street, Bikini Bottom, Pacific Ocean. Epstein's owned islands are in the British Virgin Islands in the Caribbean.
A Google Maps search of "124 Conch Street Bikini Bottom" and "Little Saint James Island" yielded no results.