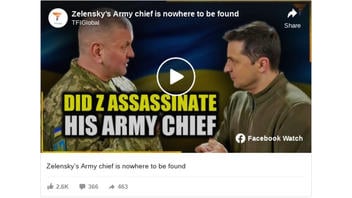 Did Commander In Chief Of The Armed Forces Of Ukraine Valeriy Zaluzhnyy disappear during the battle of Bakhmut in May 2023 or on June 3, 2023, as the country was moving forward with its counteroffensive plans? No, that's not true: The claim reused an already debunked rumor from mid-May 2023.
The story appeared in a video published on Facebook on June 3, 2023. Its title omitted any specific references to the date of the supposed event, saying: "Zelensky's Army chief is nowhere to be found."
At the 1:35 mark, the female host said:
Rumors began to circulate that he and other senior Ukrainian officers was slain in a meeting somewhere in Eastern Ukraine. Another rumor said that he was severely injured. The Ukrainian authorities published a video clip of Zaluzhnyy to clear the air.
At the 1:57 mark, she continued:
There is no sound in the footage which shows Zaluzhnyy sitting at his desk and waving to the videographer. The waving motion is unusual, as it is unusual for military or civilian officials to wave at the cameraman. Disagreements develop upon deeper inspection. Zaluzhnyy has blue eyes, yet his eyes appears brown in the video.
This is what the post looked like on Facebook at the time of writing: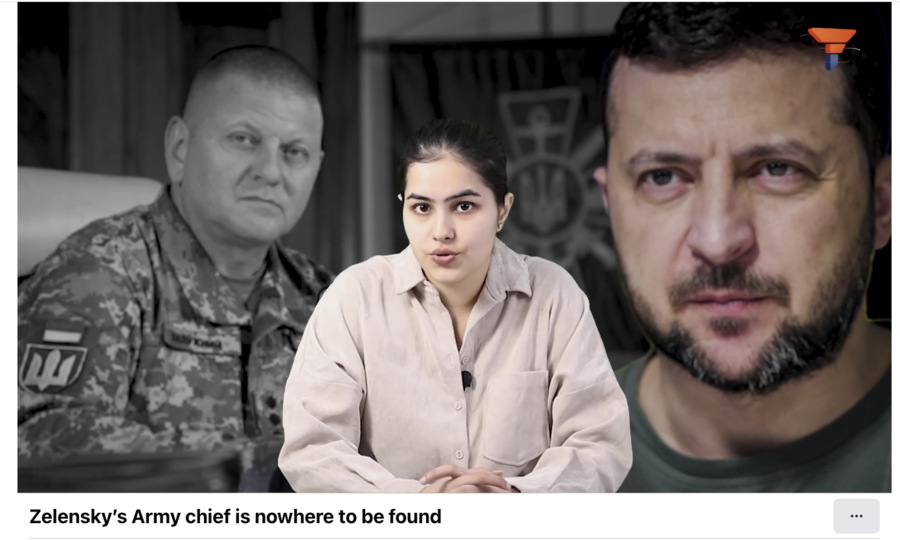 (Source: Facebook screenshot taken on Mon Jun 5 19:57:10 2023 UTC)
The claim repeated the outline of the initial gossip that started to circulate around May 11, 2023. For example, it was published by the Russian privately-owned conservative TV channel, Tsargrad. It cited a person introduced as a retired U.S. officer without clarifying how exactly he was able to get access to the purportedly existing classified sensitive intelligence. Tsargrad's source also added, as translated by Chrome, that "there are many possibilities" and that he "can't say what exactly is happening, because there is no reliable information."
On May 24, 2023, as the rumor continued to circulate predominantly on Russian-language social media, the Russian foreign intelligence agency SVR, claimed that it was receiving updates about Zaluzhnyy's health, but its head Sergei Naryshkin did not elaborate on it, adding that he couldn't guarantee that his "information is 100% reliable."
On May 25, 2023, the Russian government news agency TASS republished the rumor, this time citing an interview with a person named Yan Gagin, which was aired by another state-controlled media organization, Channel One. The man was introduced as an adviser to the interim head of the so-called "Donetsk People's Republic."
However, on the same day, a Ukrainian colonel Anatoliy Shtefan published a video of Zaluzhnyy on Telegram. Shtefan, who appeared first in the footage, began with the reference to the date -- May 25 -- and described the rumor as "fantastic stories from Russian propaganda" and "conspiracies." Filmed in one shot without any cuts, the video then showed Zaluzhnyy sitting at the desk next to Shtefan. Zaluzhnyy smiled, waved his hand to greet the Ukrainians and said that they will achieve victory.
On May 30, 2023, some Telegram channels (for example, here) claimed that the video showed Ukraine's commander-in-chief with the wrong eye color, thus, casting doubts on the authenticity of the footage.
Yet, a screenshot from the video, offered as "proof" on Telegram and Facebook. seems to have been digitally altered itself, to enhance colors and, thus, misrepresent how Zaluzhnyy appears in the frame of Shtefan's video.
Here is this fragment from the video on Facebook: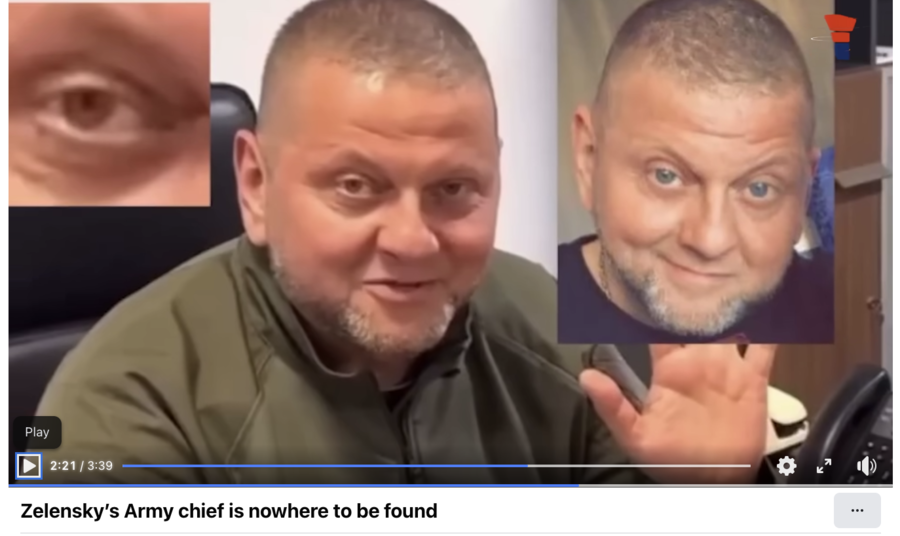 (Source: Facebook screenshot taken on Mon Jun 5 20:53:38 2023 UTC)
Here is what Zaluzhnyy's eyes actually looked like in the video on Telegram: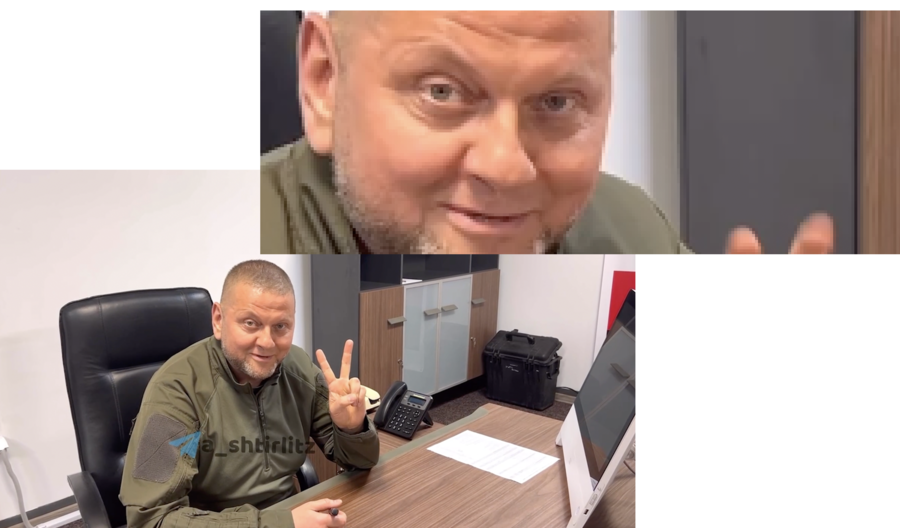 (Source: Telegram screenshot taken on Mon Jun 5 20:55:51 2023 UTC)
Shtefan's video was published on the website of the Ukrainian news agency Unian in better quality, and Zaluzhnyy's eyes still didn't look solid brown:
(Source: Unian screenshot taken on Mon Jun 5 21:10:09 2023 UTC)
The way one's eyes appear in photos and videos may slightly vary, depending on the overall amount of light in the scene and its direction. Shadows on Zaluzhnyy's face seen in Shtefan's clip indicate that the source of light is located above his head and is not set up specifically to highlight his face evenly. As a result, we see that one eye appears to be darker than another.
Zaluzhnyy's look is consistent with his official photo and the gallery of images of Zaluzhnyy at different points in his life published by one of the Ukrainian TV channels, TSN.
On May 26, 2023, another video of Ukraine's commander-in-chief was published on social media. This time, he appeared standing, and his overall look was very similar to what was posted a day before, including his eye color.
On May 30, 2023, the Russian police put Zaluzhnyy on the wanted list, which typically doesn't happen if there is reliable information that the person of interest is deceased.
Zaluzhnyy has his own Telegram channel, and while he does not post many pictures of himself there, it has been regularly updated.
Nevertheless, the same rumor resurfaced at the beginning of June 2023 (for example, here), as Ukraine continued to confirm its plans to begin a counteroffensive.
Other Lead Stories fact checks about the war in Ukraine can be found here.