Did child rapper and foul-mouthed internet sensation Tay "Lil Tay" Tian die on or about August 9, 2023? No, that's not true: No official records document the death after her Instagram page featured a statement announcing the death of the 14-year-old and her elder brother. The unsigned text-only post was written as though it came from her family and provided no verifiable details. It has since been taken down. She has reportedly taken to entertainment news outlet TMZ to say the rumor of her death was due to a hack of her account.
The claim circulated widely on social media in posts like this August 9, 2023, Instagram post (archived here) on the hoodratchetv account, which said "INTERNET PERSONALITY LIL TAY HAS PASSED AWAY." In the comments, the account owner wrote:
Lil Tay has died, a statement from her family confirms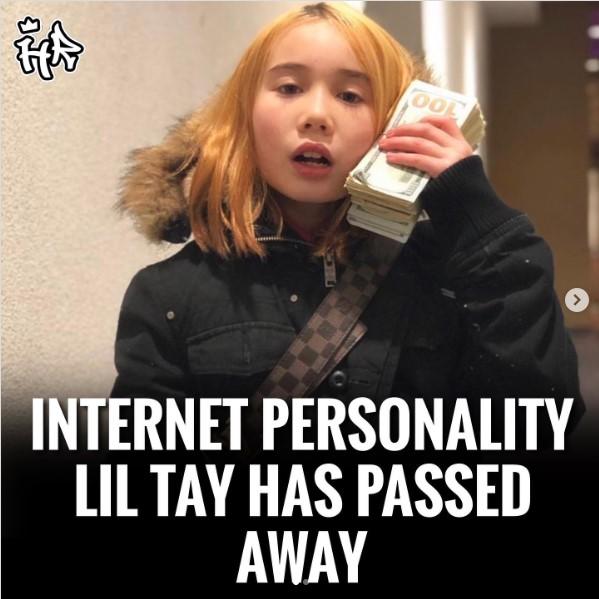 (Source: Instagram.com screenshot taken Fri Aug 11 23:21 2023 UTC)
Hoodratchetv's account simultaneously, as of August 11, displayed a post saying she had not died (archived here). But the account did not take down the false meme about her death, which had accumulated 19,000 likes.
On August 10, 2023, TMZ.com reported it interviewed her and that she said her Instagram page had been hacked by someone who posted a false announcement. This is not the first time her accounts were reportedly out of her control. Similar claims were made in 2018 after her social media was wiped clean and then sprang back to life with disturbing posts.
Searching Google's index, which includes thousands of credible information sources, Lead Stories found no corroborated credible report of the death of Tay Tian or her brother, who is said to be 21 as of August 2023. The Vancouver Police press release web directory included, on August 11, 2023, no reference to what would be a high-profile investigation if the child's death had been reported.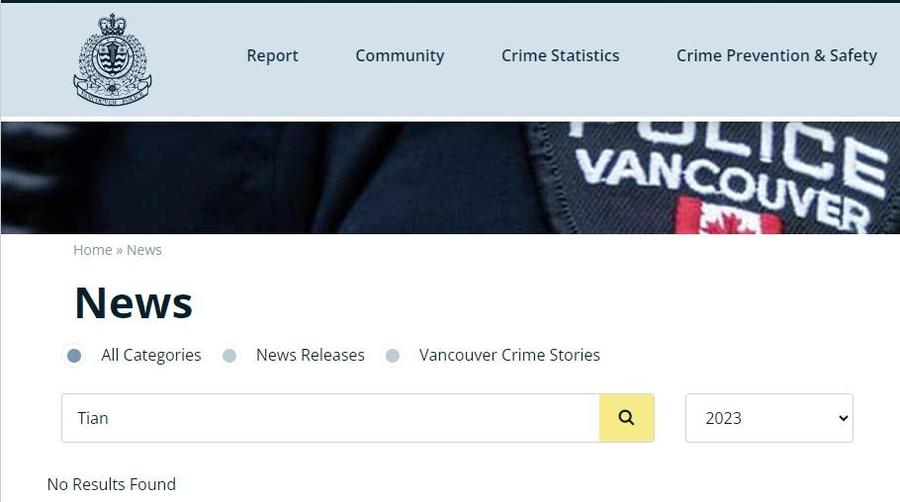 (Source: vpd.ca screenshot taken Fri Aug 11 00:54 2023 UTC)
On August 10, 2023, TMZ reported it interviewed Lil Tay to confirm she had not died. The child grew briefly famous in 2018 for posting profanity-laced rants in which she flashed wads of cash and frolicked in supercars and with luxury items, bad-mouthing rappers she said were not making as much money as she.
"I want to make it clear that my brother and I are safe and alive, but I'm completely heartbroken, and struggling to even find the right words to say," TMZ said it was told by the child star. "My Instagram account was compromised by a 3rd party and used to spread jarring misinformation and rumors regarding me, to the point that even my name was wrong. My legal name is Tay Tian, not 'Claire Hope.'"
Hope is the last name of her father, Chris, a Vancouver, British Columbia, lawyer. Lead Stories' efforts to reach Hope at his law office, or to leave a message for him there, were unsuccessful.
Tian is primarily a YouTube star. On August 11, 2023, her Instagram account consisted of 16 items, all from 2018. That's the year she became internet famous and then stopped all postings about the time her divorced parents commenced a court battle in which her father sought custody of then-9-year-old Tay, saying she had been exploited.
Her YouTube account, with 227,000 followers, only offered two 2018 videos on August 11, 2023, plus a note: "help me."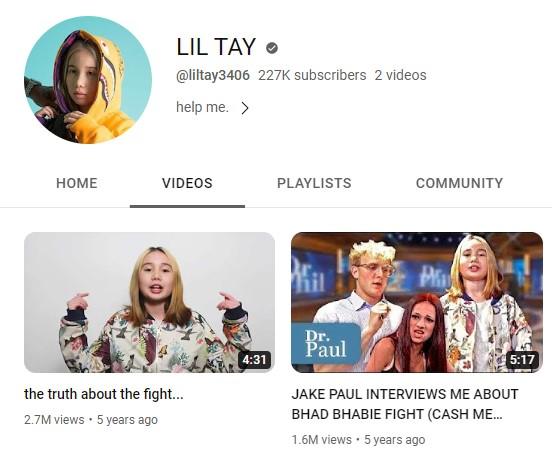 (Source: YouTube.com screenshot taken Sat Aug 12 00:31 2023 UTC)
The Instagram post that launched the rumor of her alleged death read as follows:
It is with a heavy heart that we share the devastating news of our beloved Claire's sudden and tragic passing. We have no words to express the unbearable loss and indescribable pain. This outcome was entirely unexpected, and has left us all in shock. Her brother's passing adds an even more unimaginable depth to our grief. During this time of immense sorrow, we kindly ask for privacy as we grieve this overwhelming loss, as the circumstances surrounding Claire and her brother's passing are still under investigation. Claire will forever remain in our hearts, her absence leaving an irreplaceable void that will be felt by all who knew and loved her.