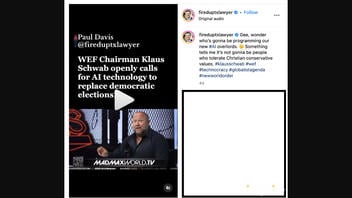 Did World Economic Forum co-founder Klaus Schwab advocate in public for stripping people of their right to vote and replacing elections with prediction algorithms powered by artificial intelligence? No, that's not true: In a 2017 talk, Schwab only wondered whether the use of such products could go as far as substituting for elections. By no means can his words be interpreted as a "call" for this in the given context.
The story appeared in a post (archived here) on Instagram on August 5, 2023. It opened:
Gee, wonder who's gonna be programming our new #AI overlords. 🤔 Something tells me it's not gonna be people who tolerate Christian conservative values. #klausschwab #wef #technocracy #globalistagenda #newworldorder
The post contained a video with the text overlay:
WEF Chairman Klaus

Schwab openly calls

for AI technology to

replace democratic

elections!
Here is what it looked like at the time of writing: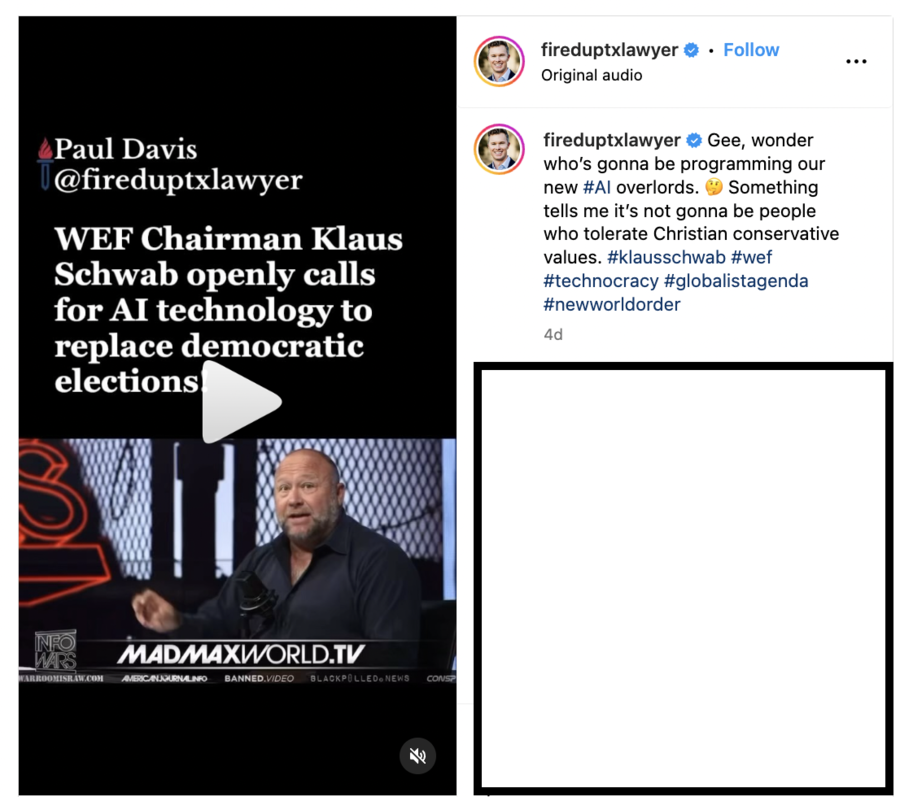 (Source: Instagram screenshot taken on Aug 10 13:50:41 2023 UTC)
The clip recycled the August 4, 2023, episode of "The Alex Jones Show" (the fragment begins at the 33:19 mark.)
The show, in turn, used a video quote from one of the 2017 World Economic Forum panels originally described on YouTube as "a conversation with Google founder Sergey Brin on leadership, entrepreneurship and the Fourth Industrial Revolution."
During the talk, Schwab asked the Google co-founder about his take on various aspects of future technology development, which included business and health care.
The exchange cited in both the Alex Jones Show and the post on Instagram begins at the 9:46 mark. Here is the full transcript of this fragment:
SCHWAB: ... we don't know yet how's the technology will look like. But one fear which I have heard is, technology now is -- and digital technologies -- mainly have an analytical power, now we go into a predictive power. We have seen the first examples, and your company very much involved into it. But since the next step could be to go into prescriptive mode, which means you do not even have to have elections anymore because you can already predict what, predict, and afterwards you can say, 'Why do we need the elections?' -- because we know what the result will be. Can you imagine such a world?

BRIN: Well, you might then further ask, 'Well, why do we need to have, you know, elected leaders?' -- because you might as well have all the decisions made? I think that's the one thing, I mean, you're venturing into, I think, profound questions. You know, you can ask also, 'What will we actually want?' I mean, we have a set of values and desires today that are probably pretty different than, you know, before the Industrial Revolution and before the agrarian revolution. And we might continue to evolve, and many of us today participate -- obviously, all of us probably -- in the global economy developing and so forth. You know, some of us choose to be you know, Buddhist monks, and we just seek enlightenment through our spirituality. So, I mean, I think people have different ways of evolving and finding meaning in different situations. And it could be that the way we look at it 100 years from now, is so different than we look at it today, that it's almost unrecognizable for us: the thinking, the rationale and the desires. We won't even be able to translate.

SCHWAB: I think this is really not only interesting, it's a crucial issue.
As the excerpt above shows, Schwab did not "openly call for AI technology to replace democratic elections" -- he only theorized about one of the possibilities and its impacts on humanity. Brin did not give a straight answer, only noting that future generations may have a perspective that will be different from the concepts defining today's society.
The conversation was broad and did not even mention the United States. The initial attempt to link this 2017 Davos talk to the 2023 U.S. domestic issues on "The Alex Jones Show" distorted the content of the discussion.
Jones, who was ordered to pay $1.5 billion in two defamation cases stemming from his comments about the 2012 Sandy Hook elementary school massacre, has made numerous false claims over the years. Lead Stories has debunked some of them here. The Southern Poverty Law Center, which tracks hate groups, called him "one of the most prolific and influential conspiracy theorists in contemporary America."
Other Lead Stories fact checks on claims involving the World Economic Forum can be found here.