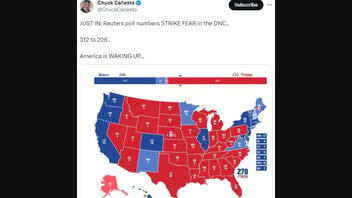 Did Reuters publish 2024 presidential election polling numbers that heavily favored former president and current candidate Donald Trump? No, that's not true: Reuters has debunked the fake numbers and a map associated with the numbers. The map was created on a website that allows users to design their own "election forecast."
The claim appeared in a post (archived here) published on X, formerly known as Twitter, on September 15, 2023. The post included an image of a map showing the projected 2024 presidential election results between Trump and President Joe Biden. The post read:
JUST IN: Reuters poll numbers STRIKE FEAR in the DNC.. 312 to 226.. America is WAKING UP...
This is what the post looked like on the X platform at the time of writing: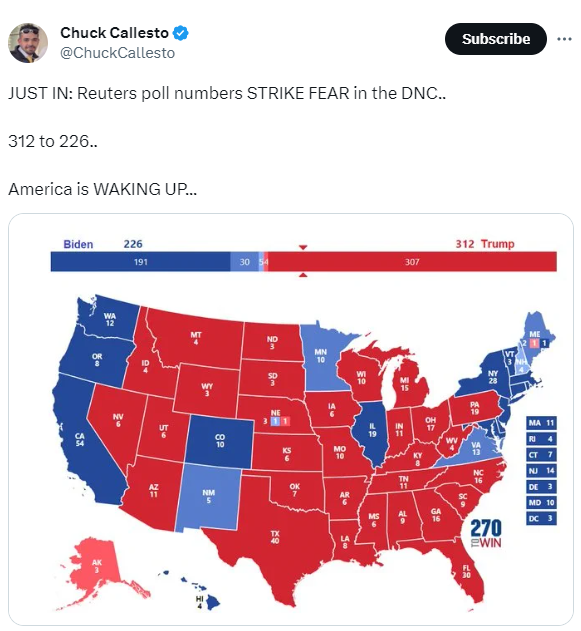 (Source: X screenshot taken on Wed Sep 20 15:12:35 2023 UTC)
Reuters has denied publishing the supposed polling numbers and the map. In an email sent to Lead Stories on September 20, 2023, a Reuters spokesperson told us:
Results of a simulated 2024 U.S. election poll circulating on social media attributed to Reuters are false. Reuters didn't publish these polling numbers.
A fact check (archived here) published by Reuters on September 19, 2023, about the claim also states that the organization had nothing to do with such poll numbers and "does not publish polling results broken down to the state or electoral college district level."
The map used in the post making the claim was created on the website 270toWin, as indicated by the website's logo near the bottom right of the map. According to the website's "About Us" page, it is "a nonpartisan site for people passionate about politics":
We aggregate polls and professional election projections, complementing that with relevant news and original content. Visitors to the site use this information to create and share their own election forecasts via our engaging interactive mapping tools.
In the Reuters fact check, it was confirmed that 270toWin does not use election polling numbers gathered by Reuters.
The map used in the post published to the X platform, then, seems to have been created using the 2024 Presidential Election Interactive Map feature on 270toWin using customized categories and numbers. The description of the tool, found on the website's homepage, reads:
It will take 270 electoral votes to win the 2024 presidential election. Click states on this interactive map to create your own 2024 election forecast. Create a specific match-up by clicking the party and/or names near the electoral vote counter. Use the buttons below the map to share your forecast or embed it into a web page.
A screenshot of the interactive map feature on 270toWin is included below: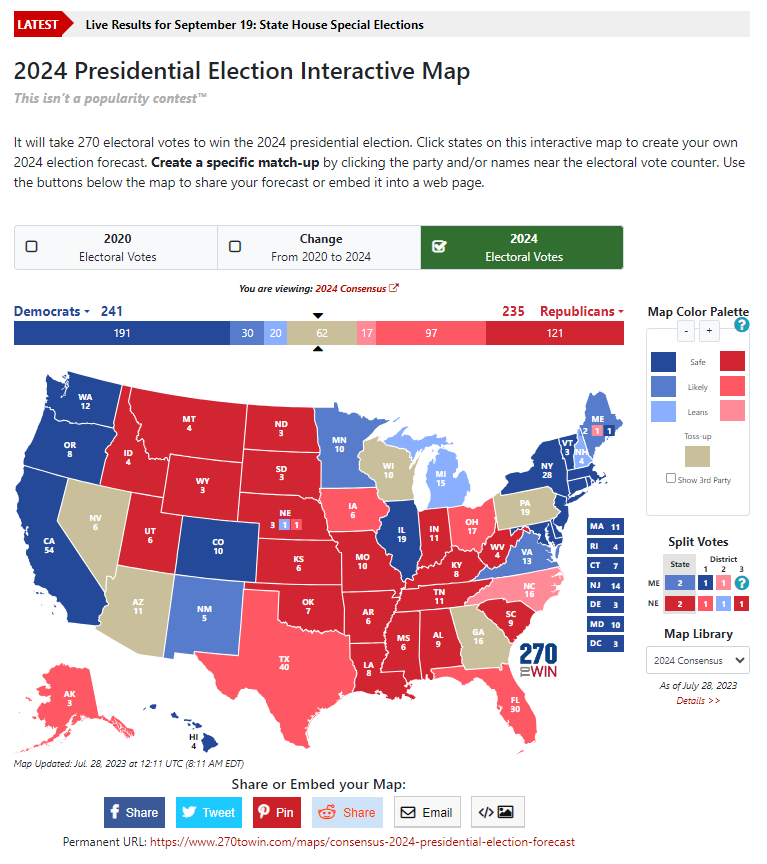 (Source: 270toWin screenshot taken on Wed Sep 20 Screenshot 17:53:35 2023 UTC)
Lead Stories reached out to 270toWin about the claim and will update this story with any response.