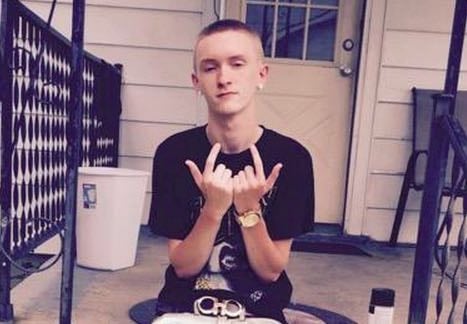 It seems like only yesterday that Slim Jesus became an internet thing. Actually it was several days ago that the 18-year-old white rapper from Hamilton, Ohio, blew up on Twitter. But the hottest story about the Eminem wannabe is a hoax.
Lead Stories can report that he was not shot in a drive-by shooting and then killed "crucifixion style" outside of his home, contrary to one of the most trending stories identified by our Trendolizer.
The bogus story says the rapper was recording a music video in front of his home when the attack took place. Not only did the attack not happen, but police did NOT find "I wanna be Jesus so bad" written on his stomach with spray paint.
Love me or hate me, I got the game all stirred up

-- Slim Jesus (@TheSlimJesus) September 11, 2015
Again, the not-so-old Trendolizer adage proves valid: "Just because it's trending, doesn't mean it's true."
The truth about Slim Jesus is that his "Drill Time" video is for real. Watch it here:
Trendolizer is now a huge Slim Jesus fan. It obsessively searches social networks to find the hottest trending content about this rising star. Scroll down to see the latest.