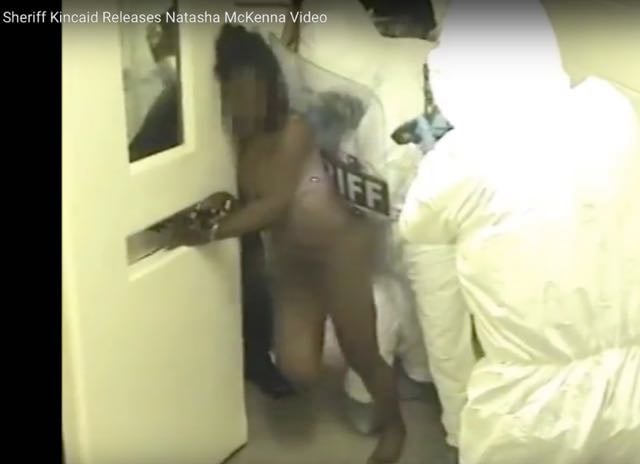 Video of deputies trying to restrain Natasha McKenna so she could be transported from one jail to another shows a dramatic 20-minute struggle in which the mentally ill inmate was tasered four times before falling unconscious.
McKenna, who suffered from schizophrenia and bipolar disorder, died in a hospital five days after falling unconscious during the February 3, 2015 incident. They were attempting to move her from the Fairfax jail to Alexandria, Virginia, to face a charge of assaulting a police officer.
Fairfax County, Virginia, Sheriff Stacey Kincaid released the video as a criminal probe concluded no charges would be filed related to the inmate's death. She promised a "thorough internal affairs investigation" would now be conducted.
"There's no better way for me to share what actually occurred than to make this video available for the community to viewed in it's entirety," Sheriff Stacey Kincaid said.
The 45-minute jail video starts with a deputy explaining why he and four others were dressed in bio-hazard suits. "She's been non-compliant with orders, she's created a major biohazard incident in the cell with urine and possibly feces, she's been throwing urine out of the cell."
McKenna, 37, is naked, but parts of the video were "pixelated out of respect for Ms. McKenna's privacy," Sheriff Kincaid said.
"You promised you wouldn't kill me," McKenna can be heard saying just after the cell door is opened.
The deputies struggled just to get McKenna out of the hallway at her cell and into a restraint chair.
"Stop resisting, we are your friends," one deputy told her.
"My belly hurts," McKenna said at one point.
"That's because you're resisting," a deputy replied.
"If you keep resisting, you're going to be tasered," she was told. Deputies used their Taser stun guns on her four times in the first 20 minutes. She appeared to stop struggling after 20 minutes.
Two nurses then checked McKenna's vital signs as she sat strapped into the restraint chair and with her head covered with a bag but her naked body uncovered. She was deemed "good to go" by the nurse.
But when the nurse checked her vital signs 10 minutes later as she was about to be loaded in a van, no pulse could be detected. "We got bad news," one deputy is heard saying.
Deputies unstrapped her from the chair, put her on her back and unlocked the leg irons and handcuffs before beginning cardiopulmonary resuscitation efforts. Fairfax City emergency medical technicians arrived about 8 minutes later, loaded her into their ambulance and sped away to a hospital.
The medical examiner ruled McKenna's death an accident that resulted from excited delirium brought on by the physical restraints and the Taser shocks. McKenna's schizophrenia and bipolar disorder were also noted as a contributing factor in her death.
Lead Stories' Trendolizer constantly scours social networks for the most trending content about allegations of prisoner abuse. Scroll down to see the latest.