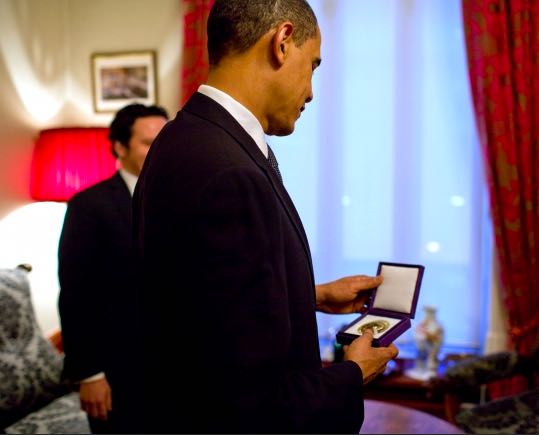 Beware of websites that have no shame when it comes to getting you to click, like and share a bogus story. The latest trending fake report detected by Lead Stories' Trendolizer is headlined: "Obama To Receive Second Nobel Peace Prize." Not true.
One clue you will notice on the most-trending report -- which Trendolizer measured at an hourly rate of 2,100 likes an hour for 21 hours -- is that it is published on USAToday.com.co. That's not the same as USA Today, the reputable newspaper/website. That would be USAToday.com -- no 'co' tacked on. It's an impersonator! Remember the Lead Stories' motto: "Just because it's trending doesn't mean it's true!"
Obama became the fourth U.S. president to be presented a Nobel Peace Prize in December, 2010. The award was given for his efforts to strengthen international diplomacy and cooperation.
President Theodore Roosevelt was the first in 1906, followed by President Woodrow Wilson in 1920 for his efforts in ending the First World War and help in creating the League of Nations. President Jimmy Carter won the Nobel Peace Prize in 2002 -- 21 years after leaving the White House -- for his efforts in finding "peaceful solutions to international conflicts, advancing democracy and human rights, and promoting economic and social development."
Vice President Al Gore, who almost became president, was given the prize in 2007 for his efforts to obtain and spread knowledge about climate change.
Trendolizer scours social nets for the hottest trending content -- including the fake stories. Scroll down to see other hoax stories detected by Trendolizer.