The 26-year-old man who killed 10 people and wounded 7 others on an Oregon college campus asked victims to stand up and state their religion before deciding who to shoot, one student who was there told a newspaper.
Law enforcement quoted by the New York Times and other media have identified the killer as Chris Harper Mercer, age 26.
The last posting on his Facebook timeline was an article titled "Signs You Might Be Raising A Serial Killer," under which Mercer commented: "As a kid (and a twenty-something), I used to throw ants into spider webs. I wasn't a complete monster though, because I'd put little slivers of tape on them that functioned as armor. Does that count as animal torture?"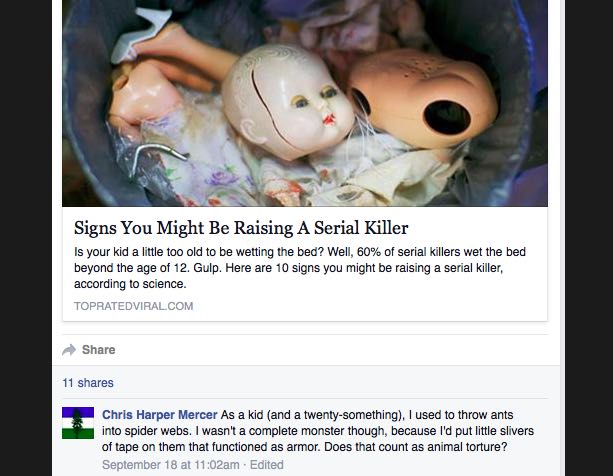 Investigators are examining social media postings he is believed to have made the night before attacking the science building at Umpqua Community College in Roseburg, Oregon, on Thursday, October 1, 2015. He warned there would be an attack, according to a CNN report. They're looking at an online chat where some people were giving him guidance on how to carry out the attack, while others were discouraging him, according to CNN.
Roseburg's News & Review newspaper quoted a freshman student suggesting the shooter appeared to have a religious motive: "Kortney Moore, 18, from Rogue River, was in her Writing 115 class in Snyder Hall when one shot came through a window. She saw her teacher get shot in the head. The shooter was inside at that point, and he told people to get on the ground. The shooter was asking people to stand up and state their religion and then started firing away, Moore said. Moore was lying there with people who had been shot."
A woman who claimed her grandmother was working at the school when she witnessed the killings tweeted a description of the shootings as told to her by her grandmother: "The shooter was lining people up and asking if they were christian. If they said yes, then they were shot in the head. If they said no, or didn't answer, they were shot in the legs. My grandma just got to my house, and she was in the room. She wasn't shot, but she was very upset. She tried to perform CPR on her friend but it was too late. I hope nothing like this ever happens again."
#UCCShooting pic.twitter.com/RVtzkWVSPu

-- Bodhi (@BodhiLooney) October 1, 2015
"We're exchanging shots with him," an officer is heard saying on a police radio recording posted online. "He's in a classroom on the southeast side of Snyder Hall." Another transmission said they believed he had "a long gun," meaning a rifle. This portion of the recording can be heard starting at the 6:47 mark .
An officer radios at the 9:00 mark: "The suspect is down!"
The attack began at about 10:38 a.m. PT, according to the Douglas County, Oregon, Sheriff's Department.
Two minutes into the recording, the dispatcher said: "Somebody is outside one of the doors shooting through the doors. There is a female in the computer lab. We do have one female that has been shot at this time." The dispatcher then said approximately 35 people were in the classrooms.
Student Kayla Marie tweeted this message at 10:41 a.m. PT: "Omg there's someone shooting on campus." A minute later she posted: "Students are running everywhere. Holy God." The student tweeted a reassuring message an hour later: "Hi guys. I'm ok. Physically. We're being bused off campus."
Omg there's someone shooting on campus.

-- Kayla Marie (@KP_KaylaMarie) October 1, 2015
Students are running everywhere. Holy God.

-- Kayla Marie (@KP_KaylaMarie) October 1, 2015
The college is described on the school's Facebook page as "Nestled in the beautiful North Umpqua River Valley, Umpqua Community College is the regional center for higher education." Enrollment is about 3,000 students.
Lead Stories' Trendolizer will continue to follow this story by identifying the hottest trending content on social networks. Scroll down to see the latest.