The 26-year-old man who police say killed 10 people at an Oregon college described himself as "not religious, but spiritual" on a dating website, but other online postings suggest the shooter identified closely with the Irish Republican Army's struggle against the British government.
Chris Harper Mercer was born in the United Kingdom but his family moved to Southern California when he was young, according to a stepsister. Mercer moved with his mother to Oregon several years ago.
Mercer identified himself as "mixed race" on a SpiritualPassions.com profile, where he wrote he was seeking "romance, soulmate, conversation, miss right now, the yin to my yang, dating, penpal, friends only, relationship, miss right."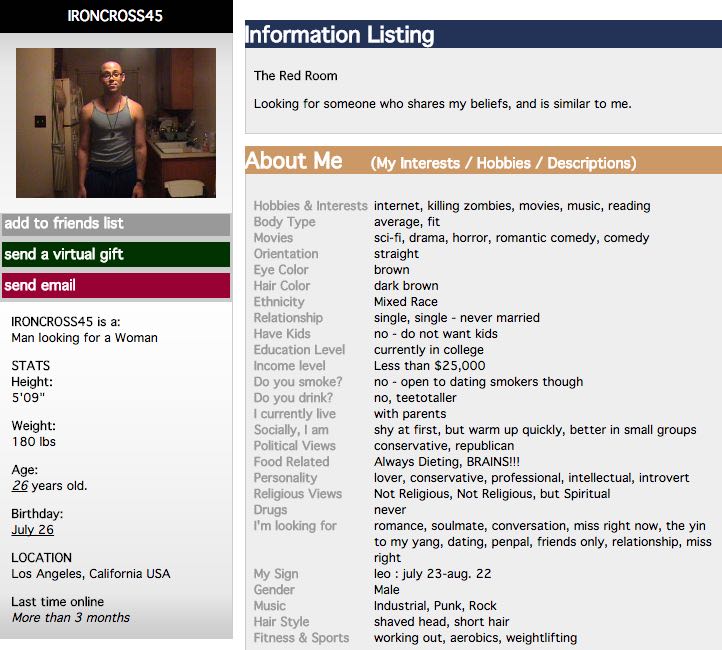 His father was at a loss for words when confronted by reporters outside his home in Tarzana, California -- a Los Angeles suburb -- the evening after the Umpqua Community College attack in Roseburg, Oregon. "Shocked is all I can say," said Ian Mercer, speaking with what sounded to be an Irish accent. ""I can't answer any questions right now. Obviously, it's been a devastating day, a devastating day for my family."
Stepsister Carmen Nesnick spoke more. "I'm actually still shaking and my mom's in there crying and I don't know what to do," Nesnick said. Although she never lived with her stepbrother, she believed he was a kind person, she said. "All he ever did was put everyone before himself, he wanted everyone to be happy and no matter if he was sad or mad, he would always try to cheer up everybody."
But what neighbors in both California and Oregon said about Mercer suggested he was a troubled young man.
His mother tried hard to protect her son from noise, cockroaches and other things that apparently irritated him as a shy, introverted teen, former neighbors in Torrence, California, told the New York Times.
Julia Winstead recounted how the mom when door-to-door in their apartment complex asking for signatures on a petition to urge the landlord to exterminate cockroaches because they bothered her son. "She said, 'My son is dealing with some mental issues, and the roaches are really irritating him,' " Winstead said. "She said they were going to go stay in a motel. Until that time, I didn't know she had a son."
A neighbor in the Winchester, Oregon, apartment building where Mercer last lived said he would yell at her and her husband when he saw them smoking on their balcony. "He was not a friendly type of guy" Bronte Hart told the Times. "He did not want anything to do with anyone."
Mercer's MySpace page -- a social networking site eclipsed by Facebook seven years ago -- shows a photo of him holding a rifle. It also features photos of Irish Republican Army fighters and the cover of An Phoblackt, a pro-IRA journal, that reads: "British army could not defeat IRA."
The IRA is a Catholic militant group that has fought for decades against the British over protestant control of Northern Ireland.
Religion was allegedly involved in Mercer's decisions about who to shoot and how to shoot them during the campus assault. Witnesses say Mercer first asked each person to stand up and state their religion before shooting them. Roseburg's News & Review newspaper quoted a freshman student suggesting the shooter appeared to have a religious motive: "Kortney Moore, 18, from Rogue River, was in her Writing 115 class in Snyder Hall when one shot came through a window. She saw her teacher get shot in the head. The shooter was inside at that point, and he told people to get on the ground. The shooter was asking people to stand up and state their religion and then started firing away, Moore said. Moore was lying there with people who had been shot."
A woman who claimed her grandmother was working at the school when she witnessed the killings tweeted a description of the shootings as told to her by her grandmother: "The shooter was lining people up and asking if they were christian. If they said yes, then they were shot in the head. If they said no, or didn't answer, they were shot in the legs. My grandma just got to my house, and she was in the room. She wasn't shot, but she was very upset. She tried to perform CPR on her friend but it was too late. I hope nothing like this ever happens again."
The last posting on his Facebook timeline was an article titled "Signs You Might Be Raising A Serial Killer," under which Mercer commented: "As a kid (and a twenty-something), I used to throw ants into spider webs. I wasn't a complete monster though, because I'd put little slivers of tape on them that functioned as armor. Does that count as animal torture?"
Lead Stories' Trendolizer constantly scours social nets for the hottest trending content about this and otherschool shootings. Scroll down to see the latest.