Bill Cosby posted a $1 milion bond to remain free after his first appearance in court Wednesday on a sexual assault charge. A Pennsylvania prosecutor filed a felony against the legendary comedian for allegedly drugging sexually assaulting a woman at his Cheltenham Township home in 2004.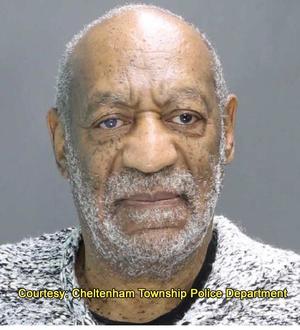 Cosby, 78, was surrounded by two lawyers as he arrived for arraignent in an Elkins Park, Pennsylvania, court Wednesday afternoon. He left after posing for a mugshot and paying $100,000 to get a $1 million bond.
The Montgomery County district attorney's office did not name the alleged victim, but dozens of women have made public allegations against the legendary comedian for assaults they claim happened starting in 1969. Prosecutors said they have determined that the statute of limitations have not expired on the 2004 allegation.
Read the prosecutor's full statement
"A prosecutor's job is to follow the evidence wherever it leads and whenever it comes to light," said Assistant District Attorney Kevin Steele said Wednesday. "Upon examination of all of the evidence, today we are able to seek justice on behalf of Mr. Cosby's
victim."
The allegation was first investigated by the Montgomery County prosecutor's office in 2005, but no charge was filed. A new prosecutor reopened the case in recent months amid the media frenzy over allegations of sex abuse against Cosby. "After reviewing the initial investigation, re-interviewing some witnesses, examining other evidence in the civil case and information from other alleged victims, it was determined that the evidence warranted the filing of criminal charges against Cosby," the new prosecutor said.
The alleged female victim was a guest in Cosby's home when Cosby served her wine and three blue pills, according to the affidavit. She "became incapacitated, and Cosby led her to a couch," the prosecutor's statement said. "The victim lay down on the couch, and Cosby positioned himself behind her. Cosby then fondled the victim's breasts, put his hands inside her pants, and penetrated her vagina with his fingers. During the assault, Cosby also put her hand on his erect
penis. The victim did not consent to any of these acts and reported that she was unable to move or speak and felt 'frozen' and 'paralyzed.'"
The woman, who returned to her native Canada months after the incident, told her mother about it in January 2005, the affidavit said. They reported it to Canadian police, who then informed Pennsylvania authorities, it said.
Cosby, 78, has not yet responded to the charge.