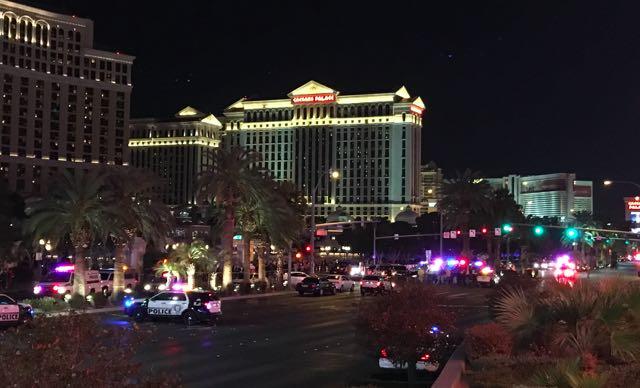 UPDATE: Read: Vegas Strip Crash: Not Terrorism, But Why Did Woman Plow Through Tourists With Child In Car?
A woman driving with a three-year-old child in her backseat "possibly intended" to plow her car into dozens of tourists on the Las Vegas strip Sunday night, Las Vegas Deputy Police Chief Brett Zimmerman said.
One person was killed and 26 others were injured, six of them critically, when the car veered off the famous boulevard and onto the crowded sidewalk near where the Miss Universe pageant had just ended.
A witness told Lead Stories he saw the woman veer onto the sidewalk and strike a group of pedestrians, then swerved back onto the road and sped up before driving back onto the sidewalk and crashing through more people walking.
Another witness said he saw injured people were strewn across a 100-yard stretch of sidewalk between Planet Hollywood and Paris casinos. The crash scene is directly across from the Bellagio Hotel and Casino.
Rabia Qureshi, a tourist from Nina, Wisconsin, was walking nearby when she saw the car jump onto the sidewalk. Her first reaction was disbelief because it seemed like an action sequence from a movie, she told Lead Stories. "It took me a full five or 10 seconds to realize that it really happened, for minute you think that its some kind of show because you're in Vegas How can a car be driving on the sidewalk."
It was a shocking scene, she said. "I saw people from above the car level flying off and falling on the sides."
Her husband Atif Qureshi is a doctor. He said he immediately went into "doctor mode" and rushed to he sidewalk to start treating the injured.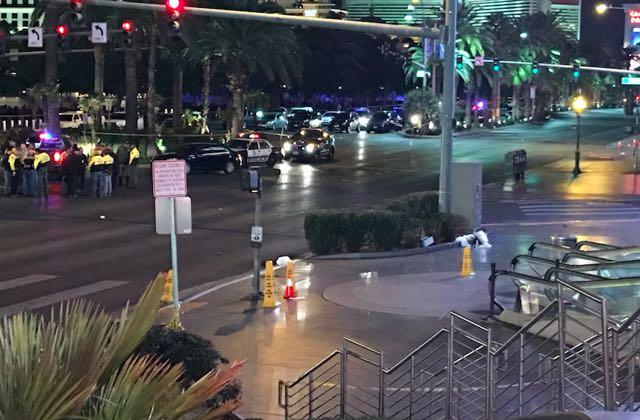 This photo shows cones placed where victims fell.
The massive crash happened at 6:30pPT just as participants and audience members of the Miss Universe pageant were leaving Planet Hollywood's Axis Theatre.
An emergency management agency truck was parked at the scene to assist the investigation. Las Vegas Boulevard has been closed in both directions in front of the Planet Hollywood north for several blocks.
Lead Stories' editor in chief Alan Duke is on the scene and will update this story.
Watch Lead Stories' Periscope report from scene of Vegas strip mass casualty crash https://t.co/TCRiycZMUM pic.twitter.com/wVagmUEknJ

-- Lead Stories (@LeadStoriesCom) December 21, 2015