'Seven Black Children Murdered For Wanting To Learn About Their History', a headline that is sure to provoke an emotional response. Fake news website Empire Herald has used it to get thousands of people upset enough to share a made-up story via social media.
The events supposedly happened in Druid Hills, a suburb of Atlanta, Georgia, where a man named 'Wilson Barker' (51) was said to have lured seven children between ages 10 and 13 into his home to molest, torture and kill them. His wife 'Sarah Barker' helped him by dressing up as Rosa Parks and assisting with luring the children into the house by putting up a sign inviting children and adults into the house to 'learn about African-American history'.
A neighbor named "Jackie Patton" then reportedly heard suspicious noises along with Martin Luther King Jr.'s "I have a dream" speech being played very loud. After the authorities were alerted they supposedly discovered a bloody scene inside the house, involving dead children, a machete and a chainsaw.
Of course all of it is made up. The Empire Herald is a fake news site that regulariy invents 'news' designed to shock people. They admit as much in their Terms of Service:
Much of the content contain on our website is consider satirical in nature unless otherwise specified
(grammatical errors left in on purpose)
The photo that goes along with the story is fake too: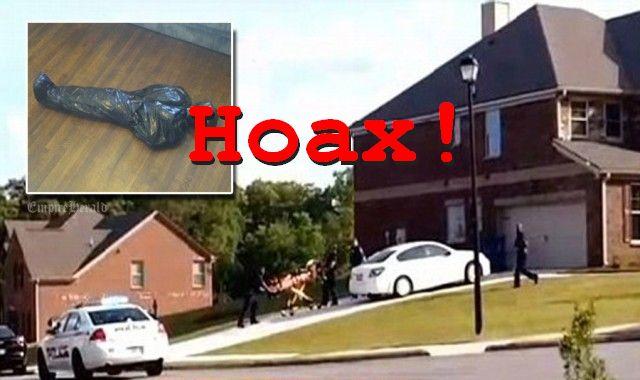 The 'crime scene' backdrop is a cropped screenshot from a CBS46 television broadcast about a Georgia sheriff, Victor Hill, who shot a woman in Lawrenceville near Atlanta in May 2015.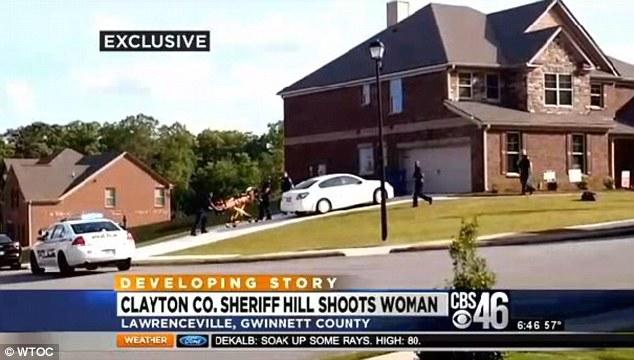 The 'exclusive' caption is hidden by inserting a photo of a black plastic bag supposedly containing one of the victims. Actually the photo is a screenshot from a 2013 instructional video on how to make a fake dead body for less than $1 (for Halloween etc.).
So if you see people sharing 'news' about the 'Black History Month Massacre', please reassure them it did not happen.