There is a NOT TRUE story on a known hoax/fake website with the header "Police Find 12 White Female Bodies In Garage Freezer Tagged With Black Lives Matter". Although it comes from a hoax website many people don't read the fine print at the bottom of the page. Some of the fake stories out there are humorous and harmless, but then you have a NOT TRUE story like this. This kind of story is an example of irresponsible journalism, the kind that creates unwarranted racism and hate.
The NOT TRUE story goes on to state:
The Los Angeles corners department came across a gruesome discovery today when several neighbors called concerned about suspicious activity at a home in their neighborhood. Several 911 calls directed police to the 800 block of Woodland Avenue on Wednesday morning. Upon arriving at the scene, police knocked on the door to be greeted by a man who seemed "under the influence of drugs."
The NOT TRUE story also added this:
Upon further investigation, they found a dozen frozen bodies within 6 freezers in the man's garage. The bodies had several things in common - they were all white women in their mid-20s, blonde hair and all had the writings marked on them which read "Black Lives Matter" and "BLM." Mathis, who was known for his involvement in the "Black Lives Matter" movement was arrested without incident and booked into the county jail on no bond. They are not releasing the names of the victims until the families are notified. Mathis tested positive for being under the influence of bath salts, which he says caused him to commit these horrible crimes."
The images used in the NOT TRUE story of the alleged freezers that the bodies were stored in are FROM ANOTHER STORY. The images actually come from a TRUE story posted in March 2015, with the header "Sister of two children found dead in a freezer claims mother 'beat them to death with extension cord and hot iron' as autopsies confirm it was a homicide".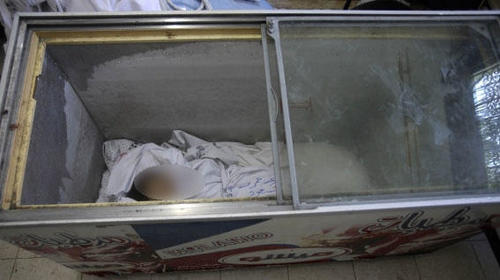 The image of the police removing a refrigerator from a home comes from a September 2015 story titled "Police Uncover A Body Inside Of A Refrigerator In L.A.'s Sun Valley Area". Not really sure where the inset mugshot comes from but it DOES NOT belong to this NOT TRUE story.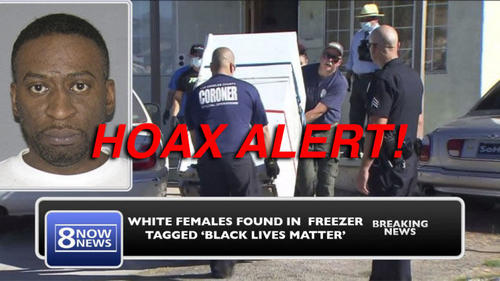 Lead Stories: We don't fuel the fire, we foil the fake.
Lead Stories' Trendolizer™ is constantly scouring the web for the hottest news, viral videos and images.
Follow us on Facebook and Twitter @LeadStoriesCom for your daily news.