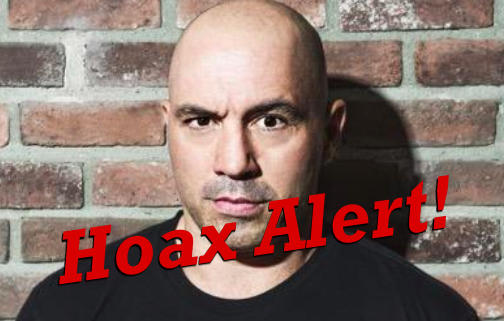 There is a hoax floating around the webs that Joe Rogan foiled the attack of a potential gunman. Although few would doubt Joe Rogan's ability to deliver a well executed roundhouse to the face, this story is a complete HOAX.
Associated Media Coverage - a known hoax website - published an article today claiming that a disgruntled comedy fan named Derek Withers got upset last night during a live Joe Rogan show at The Comedy Store in Las Angeles, CA.
The UNTRUE story reads:
According to witnesses, as Withers was focused on the audience, Rogan immediately ran behind the gunman and placed him in a wrestling submission known as an arm-triangle choke which instantly caused the would-be shooter to lose consciousness. As the gunman fell to the floor, Rogan kicked away the firearm (which was later identified as a .45 caliber Kimber 1911).
This story is quite entertaining but completely false. Joe Rogan was not even performing at the Comedy Store on March 24, 2016 (although he is set to perform there tonight 3-25-16).
Lead Stories' Trendolizer™ is constantly scouring the web for the hottest news, viral videos and images.
Follow us on Facebook and Twitter @LeadStoriesCom for your daily news.