A silly NOT TRUE story is trending on the internet stating that due to pressure from advertisers, Spotify and Pandora music services plan to ban heavy metal music from their playlists. Though the story comes from a known hoax site, not all people are aware of that and continue to share the nonsense.
The completely false story starts:
Today it was announced that both Spotify and Pandora will be applying filters that largely reduce the amount of heavy metal music available to users in their digital media libraries. Fans of heavy metal music can expect to see their favorite heavy metal bands removed from Spotify and Pandora by mid-July 2016. The details behind the decision were relatively unclear.
Continuing with the lies:
Spotify spokesperson Derek McCarthy told reporters, "The decision to remove any genre of music from our digital library is not an easy one; however, at the end of the day we are a business and have to make decisions that are conducive to our earnings and growth." According to McCarthy, Spotify has received an abundance of threats to terminate or decline renewal of advertising contracts from several advertisers and sponsors. It has been said that Spotify and Pandora have a large amount of shared sponsors and advertisers.
And just a bit more:
It's clear that advertisers are not comfortable maintaining affiliation with companies that provide its customers with music that has a direct link to violence in youth and promotes things such as school shootings", Jason Goldstein, a social commentator for the Lodestone Herald told fans of the publication.
The truth is that Heavy Metal music has an insanely large following and that was made very clear in articles like this one from 2015 titled "Spotify Just Discovered That Heavy Metal Is More Popular Than Pop Music." Below is a REAL graphic from 2015 showing listener loyalty by genre: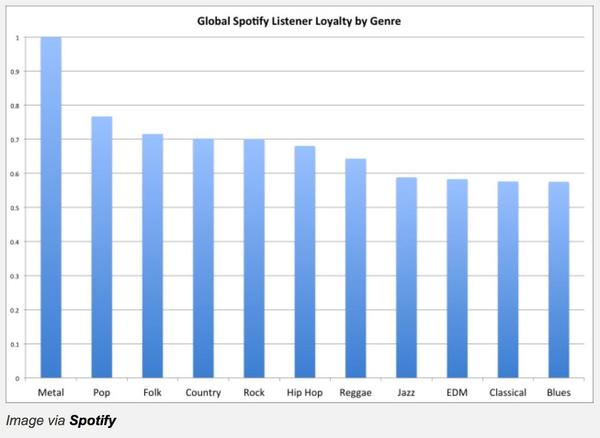 Though the story gives us little to go on, we were able to confirm that the names and positions listed are false.
*Image courtesy: noisy.vice.com
Lead Stories' Trendolizer™ is constantly scouring the web for the hottest news, viral videos and images.
Follow us on Facebook and Twitter @LeadStoriesCom for your daily news.