There's an infuriating story making the rounds online about an innocent black man named Reginald Dwight being arrested by racist cops after they misinterpreted a 911 call about an escaped gorilla. At 12:30 PM on thursday a call was allegedly made to LA's 911 operators by 'frantic neighbours' who claimed there was a:
gorilla loose in their neighborhood raping random cats
This would be a 400 pound gorilla that escaped from its habitat in the Los Angeles zoo, according to the article. Police then arrived at the scene and arrested poor Reginald who was "walking to his volunteer job at a senior center". Later he was reported as saying:
These police just ran up on me like I was some kind of criminal. Then they tell me I meet the description of someone who was going around the neighborhood raping stray cats. What the hell kind of person does that. Especially a black person? That's white people sh*t.
The story manages to offend both white and black people with all the explicit and implied racism going on. Good thing it never happened: the article is completely fake, bogus and not true. TMZWorldNews, the site publishing the article, is a notorious fake news site that publishes made up stories in order to get people to share them on social media. Their name was chosen to be easily confused with the (real) TMZ.com which specializes in celebrity gossip but which has nothing to do with this site.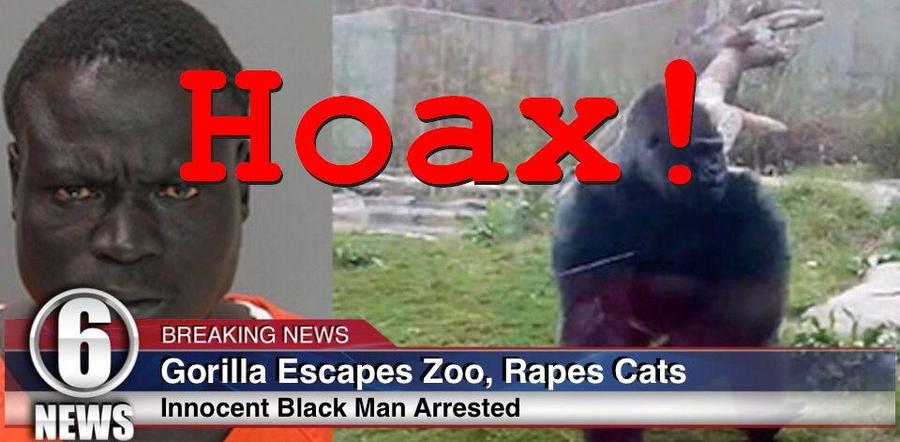 The image used with the story contains a mugshot which is the first result that comes up when you do a Google image search for 'harmless black guy'. It is often used in meme images. The gorilla is actually from a zoo in Nebraska where it got famous for breaking the glass of the gorilla enclosure last year.
Still, the story offended enough people to make it go viral quickly. If you spot it in your timeline, direct people to this article to let them know the truth!