The hoaxers are at it again, targeting their anti-hoax nemesis with a fake report of his arrest. Lead Stories' Trendolizer detected this latest attack on Snopes publisher David Mikkelson was trending on Facebook Wednesday, June 29, 2016 -- three days after it was published on a site that mimics a Los Angeles TV station's website.
The story titled "Snopes CEO Busted In Pit Bull Fighting Ring: 45 Dogs Rescued, 13 Found Dead" is completely untrue. Here is how we know.
First, the photos of wounded dogs used in the story are from earlier reports of dog abuse identified easily through a reverse Google image search. The photo of a scarred pit bull used at the top of the story was published in 2012 in a real report about a dog named Chloe who was doused with accelerant and set on fire in Pennsylvania.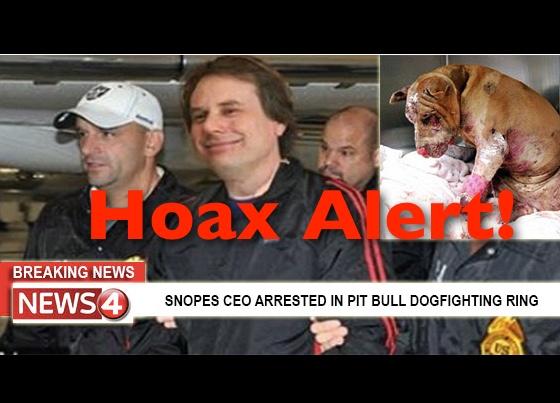 A photo of a dog cage was taken from a real story published by a New York TV website January 2014 about a Long Island, New York, man who was arrested on dogfighting charges.
The photo of police searching a dog cage is from a real raid on a Jacksonville, Florida, dogfighting operation published in August 2015.
The photo of a smiling Mikkelson is the same one used by another site months ago to illustrate a previous hoax story purporting that the Snoipes CEO was arrested on fraud charges. Lead Stories previously debunked that report.
See Also: Hoax Alert: Snopes.com CEO NOT Arrested On Charges Of Fraud And Corruption
And finally, the writer of this fake story apparently has no knowledge of the Van Nuys area of Los Angeles. There is no Van Niuys jail and no San Fernando police. The area is under the jurisdiction of the Los Angeles Police Department.
Here is excerpts from the fake story:
Nearly a dozen people are in custody, including Snopes CEO David Mikkelson, following a bust of a major dogfighting ring. The San Fernando Police Department and the FBI all took part in the early morning raids targeting the home of the popular Internet "writer" who is known for making his money by copying the original writings of fake news sites.
Note how the write takes a personal jab at Mikkelson, who does important work debunking the dangerous garbage that these hoax sites publish.
Lead Stories' Trendolizer system tracks all content posted on most social platforms. One of the services we try to provide is the detection of fake stories as they gain traction. This graph below shows the trajectory of this hoax.