The well known fake news website The Resistance: The Last Line of Defense strikes again, this time with a hoax article titled: "BREAKING: Federal Court Bans CNN From White House Press Room". The fake story opens:
In the interest of truth and democracy, the 5th Circuit Court of Appeals has ruled unanimously to remove CNN's status as "free press" and therefore their access to the White House press room. While it is ultimately up to the president to decide which news outlets are and are not allowed in briefings, federal law also dictates that unjust or unreliable sources are not welcome inside government buildings with press credentials. That's why you won't find the Weekly World News taking questions from Sean Spicer.

CNN, through their own bias and stupidity, has now been officially labeled "hyperpartisan fake news," meaning they are no better than the liberal rags you'll find all over Facebook. The decision comes from a lawsuit filed by a concerned citizen in Minnesota, Marge Litkenstein, whose opinion of Barack Obama was always favorable until she stopped watching CNN and started hearing the truth from reputable sources like Fox News, Breitbart and The Gateway Pundit.
As you would expect, there is no Marge Litkenstein: search her name in Google and the only thing that turns up is the fake article: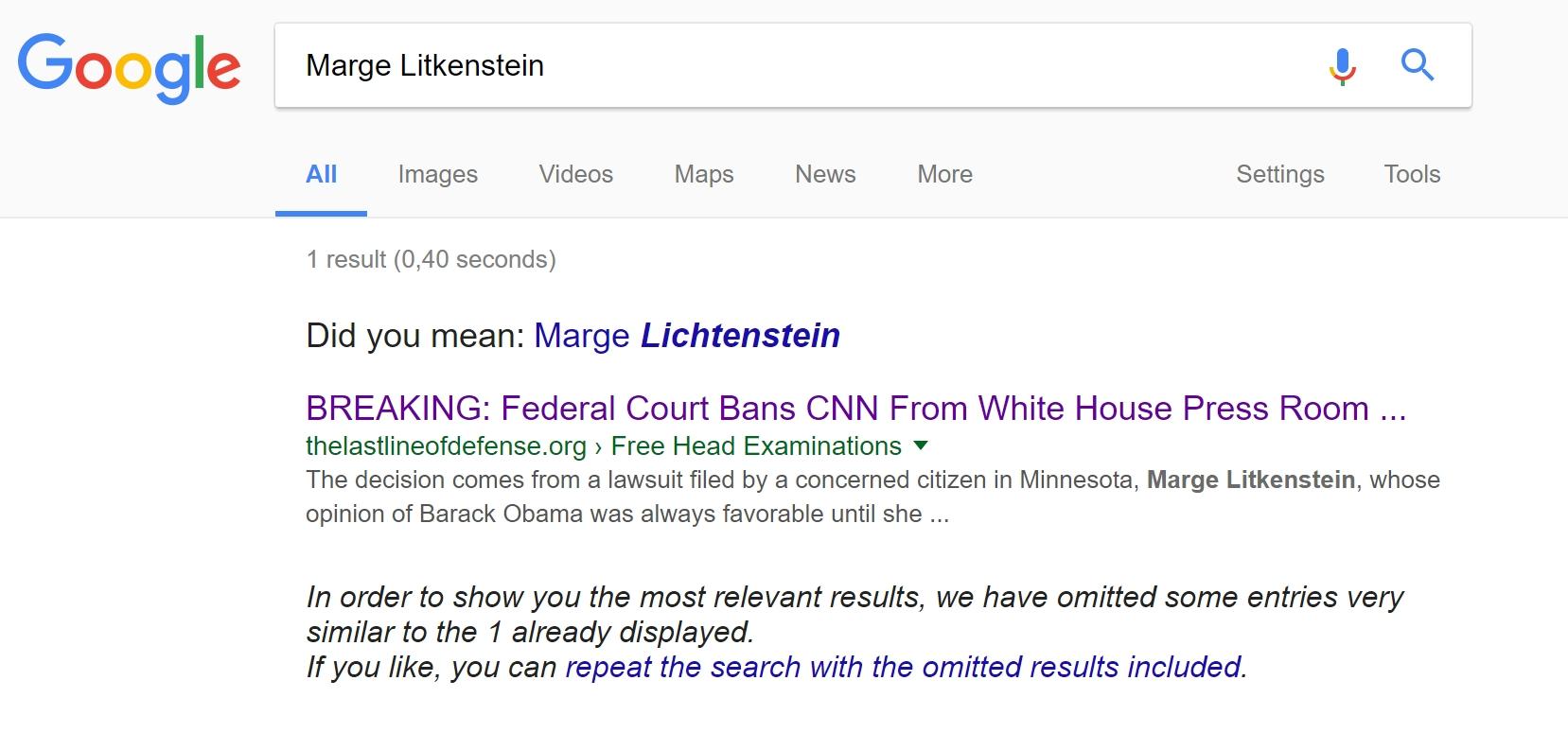 This is not surprising given that The Resistance: The Last Line of Defense is a fake news website that carries following disclaimer on its about page:
DISCLAIMER: The Resistance may include information from sources that may or may not be reliable and facts that don't necessarily exist. All articles should be considered satirical and any and all quotes attributed to actual people complete and total baloney. Pictures that represent actual people should be considered altered and not in any way real.
The site also tends to include nonsensical phrases or insults hints in the list of "categories" under the article titles:

It did so again with this article, by the way, offering "Free Head Examinations" to all readers, along with "Free Soup" and "Have A Scone They're Delicious".
It appears to be part of a larger network of sites that all seem to repost the same articles mentioning it as the source but not acknowlediging the satire disclaimer. This causes many people to believe the fake stories especially when they are being shared on social media where even more context is removed and only the title, image and description remain. Sites in the network possibly include:
We expect this story to turn up on several of these sites in the coming hours while it racks up likes/shares as you can see in the Trendolizer graph at the end of this article. There might still be time to stop this fake news from spreading too far. Search Facebook for people spreading it and send them the link to this article in the comments...