The fake/satirical website Our Land of the Free posted an article titled "BREAKING: Rosa Parks' Daughter Praises Trump's Response to Charlottesville". It opened:
Liberals love to call President Trump a racist, but you know who doesn't think that? The daughter of legendary civil rights activist Rosa Parks.

Trump, who stood side by side with Rosa Parks while she was still alive and received praise for his work improving the community for black youths, recently condemned the violence on "many sides" - both the ironically named "antifa" who showed up to create problems at the "Unite the Right" rally and those who overreacted to the violent Communists attacking them.

For some, this isn't good enough but Muriel Parks-Rosenberg stepped in on Friday to drop a truth bomb on liberals.

"President Trump's reaction has been criticized by the Left, but I don't see what he did wrong," she said in a speech at the Kennedy Center. "He strongly spoke out against hate both from those who make racial animus their primary cause and anarchists who showed up hoping to watch the world burn."
There are three big problems with this article. First of all, the woman pictured with it is actually Nina Turner, former state senator from Ohio: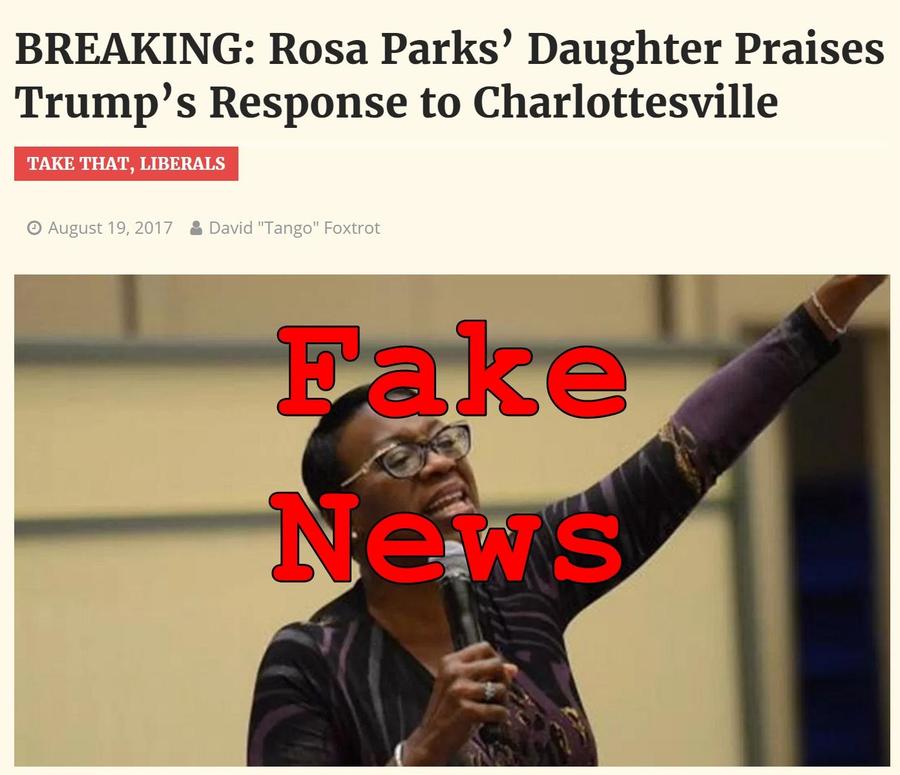 Secondly, Rosa Parks did not have a daughter. Or a son. Or any children.
And lastly, the site Our Land of the Free carries following disclaimer:
We believe in the right to be free. No matter what, the freedom to do what we want, say what we want and publish what we want comes first.
Therefore we make no guarantee that what you read here is true. In fact, it most definitely is not.
Our Land Of The Free is here to entertain you with the kind of whimsical satire conservatives enjoy.
So the entire article is definitely not true, made up and a complete hoax. Don't fall for it!