Fauxtire website Huzlers.com has started off the new year with a fresh hoax (archived here) titled "Man Arrested After Showing Officer "Finger Circle" When Asked For His License & Registration" that went viral. The story opened:
CHICAGO - A Chicago man has been arrested after he was pulled over by Chicago police and allegedly showed the officer the "finger circle" when asked for his license and registration.

Pablo Garcia, 23, was pulled over by Chicago police on Lake Shore Drive on New Year's eve afternoon for reportedly driving with his car's interior light on for too long. According to police, upon asking Pablo for his license and registration, Pablo allegedly reached into his pocket to pull out his wallet, but instead pulled his hand out to reveal the "finger circle", a very popular hand game that has no clear origin, and is played by making a circle with your thumb and index finger and then placed below the waist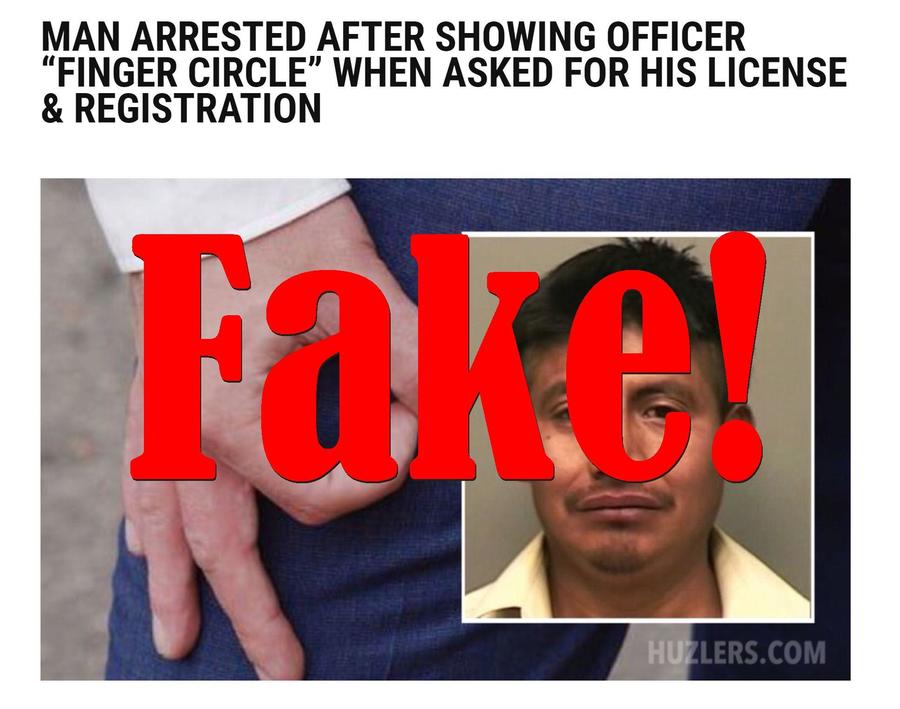 Urban Dictionary defines the circle game as:
The game starts out when the Offensive Player creates a circle with their thumb and forefinger, not unlike an "A-Okay" signal, somewhere below his waist.

His goal is to trick another person into looking at his hand. If the Victim looks at the hand, he has lost the game, and is subsequently hit on the bicep with a closed fist, by the offensive player.
You can read the full rules here.
The mugshot image is definitely already in circulation since 2011 so it is unlikely to have anything to do with the story. And we were unable to locate any arrest records for "Pablo Garcia" in Chicago on New Year's eve.
Huzlers styles itself as a "fauxtire" website and carries a disclaimer at the bottom of each page:
Huzlers.com is the most infamous fauxtire & satire entertainment website in the world. If it's trending on social media you'll find it here!
According to Splinter News the site is run by Pablo Reyes and David Martinez and according to Buzzfeed Reyes is involved with several other fake news websites. They tend to shy away from political stories, opting instead to write for a more "urban" audience, with stories about rappers, criminals and celebrities.