If you saw a story about the former doctor of Bill Gates claiming the Microsoft founder refused to vaccinate his own children you have spotted fake news. The original article came from YourNewsWire, a notorious purveyor of made up stories and hoaxes, which published it on February 7th 2018 under the title "Bill Gates' Former Doctor Says Billionaire 'Refused To Vaccinate His Children'" (archived copy). The story opened:
The physician who served as Bill Gates' private doctor in Seattle in the 1990s says the Microsoft founder and vaccine proponent "refused to vaccinate his own children" when they were young.

"I don't know if he had them vaccinated as adults, but I can tell you he point blank refused to vaccinate them as children," the physician said at a behind closed doors medical symposium in Seattle, adding "They were gorgeous kids, really smart and vivacious, and he said they would be OK as it was, they didn't need any shots."
Conveniently the story fails to mention the name of the doctor, the exact date/time of the symposium or the names of any of the physicians present. It also makes a vague excuse about doctor-patient confidentiality and "industry code of conduct" while mentioning "reports" as the source. The article also doesn't explain who published these "reports" and where, or who even wrote them.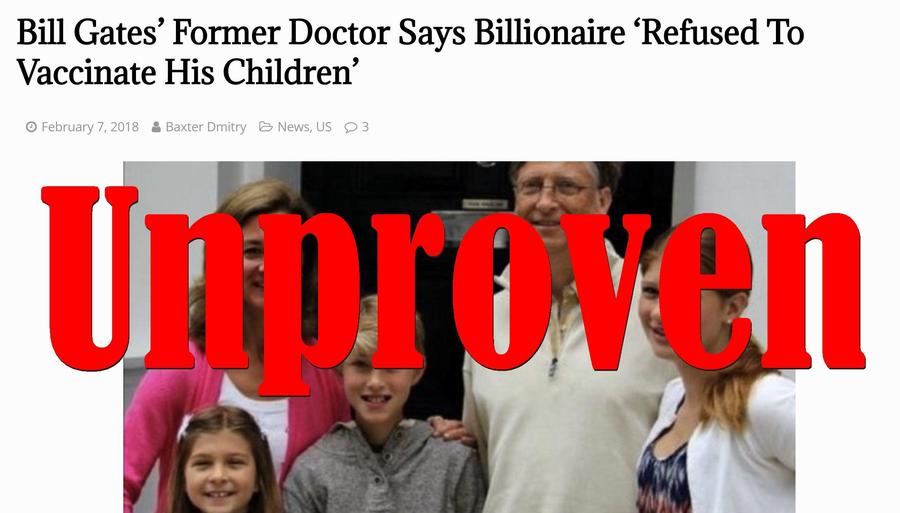 Bill Gates is the benefactor of the Bill and Melinda Gates foundation which specifically has "Vaccine Delivery" as one of its goals:
OUR GOAL: to prevent more than 11 million deaths, 3.9 million disabilities, and 264 million illnesses by 2020 through high, equitable, and sustainable vaccine coverage and support for polio eradication.
So it is higly unlikely he would not vaccinate his own kids. The odds that the quotes from the "mystery doctor" are entirely made up on the other hand are quite high given that YourNewsWire has published several hoaxes and fake news articles in the past so anything they write or publish should be taken with a large grain of salt. Their Facebook page "The People's Voice" recently lost its verification checkmark according to a report from MMFA.
The Terms of Use of the site also make it clear they don't really stand behind the accuracy of any of their reporting:
THE PEOPLE'S VOICE, INC. AND/OR ITS SUPPLIERS MAKE NO REPRESENTATIONS ABOUT THE SUITABILITY, RELIABILITY, AVAILABILITY, TIMELINESS, AND ACCURACY OF THE INFORMATION, SOFTWARE, PRODUCTS, SERVICES AND RELATED GRAPHICS CONTAINED ON THE SITE FOR ANY PURPOSE.
The site was profiled in the Hollywood reporter where it was described as:
Your News Wire, a 3-year-old website of murky facts and slippery spin, is published by Sean Adl-Tabatabai and Sinclair Treadway -- a Bernie Sanders supporter in 2016 -- out of an apartment in L.A.'s historic El Royale.
RationalWiki described it as:
YourNewsWire (styled as YourNewsWire.com[1]) is an Los Angeles-based clickbait fake news website known for disseminating conspiracy theories and misleading information, contrary to its claimed motto ("News. Truth. Unfiltered").[1]
A while ago we also reported that YourNewsWire had rebranded itself as NewsPunch by changing its domain name in an apparent effort to evade filtering/blocking. It appears the site has changed back to it's old name in the mean time but you can still see the NewsPunch name in the contact email address in the footer.