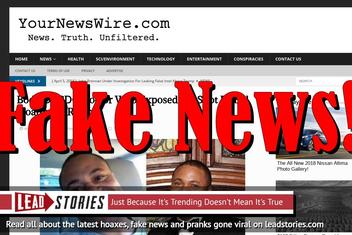 Did Dr. Timothy Cunningham, a CDC doctor whose body was found in the Chattahoochee River in Atlanta last tuesday, "expose" that this year's flu shot actually caused a flu epidemic? No, he did not, that is fake news made up by a website with a very dubious reputation.
YourNewsWire posted an article on April 5, 2018 titled "Body Of CDC Doctor Who Exposed Flu Shot Found Floating In River" (archived here) which opened:
The body of the missing CDC doctor who controversially warned that this year's "disastrous" flu shot was responsible for the deadly flu epidemic, was found in an Atlanta river on Tuesday evening.

Dr. Timothy J. Cunningham, 35, a team lead with CDC's Division of Population Health, went missing on February 12th, according to Atlanta police, with family and police desperate for answers regarding his sudden disappearance.

Today police confirmed that his remains were pulled from the Chattahoochee River on April 3rd after being found by fishermen. He was found face up and covered in mud.
The part about the doctor being missing and later found dead is unfortunately accurate.
Timothy Cunningham, a 35-year-old Harvard-educated leader within the CDC, was found dead in Atlanta's Chattachoochee River.
But the bit about the doctor claiming all sorts of things about the flu vaccine is completely fictional and no evidence has been provided for this claim:
STORY UPDATED: check for updates below. Fake news website YourNewsWire is at it again, blending reality and fiction into a cocktail of scaremongering to attract visitors and clicks.
The only source provided by YourNewsWire for their claim is a link to one of their own articles which in turn does not contain any verifiable sources for the things Cunningham supposedly said about the flu shots. It did however say that Cunningham was involved in administering shots directly to patients and that is something he would not be qualified for given his education and actual job as we noted at the time.
YourNewsWire has published several hoaxes and fake news articles in the past so anything they write or publish should be taken with a large grain of salt. Their Facebook page "The People's Voice" recently lost its verification checkmark according to a report from MMFA.
The Terms of Use of the site also make it clear they don't really stand behind the accuracy of any of their reporting:
THE PEOPLE'S VOICE, INC. AND/OR ITS SUPPLIERS MAKE NO REPRESENTATIONS ABOUT THE SUITABILITY, RELIABILITY, AVAILABILITY, TIMELINESS, AND ACCURACY OF THE INFORMATION, SOFTWARE, PRODUCTS, SERVICES AND RELATED GRAPHICS CONTAINED ON THE SITE FOR ANY PURPOSE.
The site was profiled in the Hollywood reporter where it was described as:
Your News Wire, a 3-year-old website of murky facts and slippery spin, is published by Sean Adl-Tabatabai and Sinclair Treadway -- a Bernie Sanders supporter in 2016 -- out of an apartment in L.A.'s historic El Royale.
RationalWiki described it as:
YourNewsWire (styled as YourNewsWire.com[1]) is an Los Angeles-based clickbait fake news website known for disseminating conspiracy theories and misleading information, contrary to its claimed motto ("News. Truth. Unfiltered").[1]
A while ago we also reported that YourNewsWire had rebranded itself as NewsPunch by changing its domain name in an apparent effort to evade filtering/blocking. It appears the site has changed back to it's old name in the mean time but you can still see the NewsPunch name in the contact email address in the footer.
We wrote about yournewswire.com before, here are our most recent articles that mention the site: