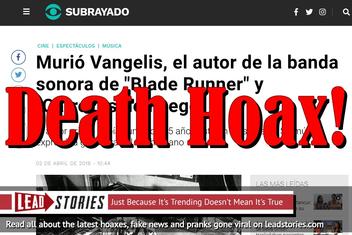 Did composer Vangelis die? And was the news only reported by Uruguayan website Subrayado? Nope, the Greek composer best known for music in the movies Chariots of Fire, Blade Runner, Missing, Antarctica, 1492: Conquest of Paradise and Alexander is perfectly fine and did not pass away, he is not actually dead.
A death hoax was published about him by Subrayado on April 2, 2018 titled "Murió Vangelis, el autor de la banda sonora de Blade Runner y Carrozas de Fuego" which translates as "Vangelis died, the author of the soundtrack of Blade Runner and Chariots of Fire" (archived here) which opened:
El autor griego había cumplido 75 años este fin de semana. Su música expresó la grandeza del ser humano.
Translation:
The Greek author had turned 75 this weekend. His music expressed the greatness of the human being.
But no mainstream media sources have since then reported on the news. There has also been no mention of his supposed death on his official Facebook page either, something you would certainly expect to be the case four days later. The website of his agent is still promoting the artist as very much alive too. We contacted them to make sure and will update this article when we hear more.
The artist recently celebrated his 75th birthday and we hope he'll be with us for many more years. To celebrate, here is one of his greatest hits: