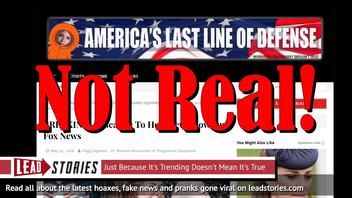 Was Roseanne Barr offered to host a new show at Fox News? No, that's not true: the story appeared on a brand new website that is part of a network of sites that publish satirical fake stories designed to get conservatives and Trump supporters to share them so they can be mocked afterwards by fans of the site. The news is not real.
The story originated from an article published by America's Last Line of Defense on May 30, 2018 titled "BREAKING: Roseanne To Host New Show On Fox News" (archived here) which opened:
According to sources deep inside the management at Fox News, Roseanne Barr will become a regular there. Without much of a political past to fall back on, Roseanne will play the role of newly awoken Trump supporter, something the actress apparently holds dear.

The show, which is still untitled as this whole thing is still unconfirmed, would air in the morning sometime after Fox and Friends. The network has also been toying with the idea of giving President trump his own half hour in the morning, which might make a perfect compliment to Barr's new format.
According to WHOIS information the site was just registered today:
DOMAIN INFORMATION
Domain:americaslastlineofdefense.org
Registrar:NameCheap, Inc.
Registration Date:2018-05-30
Expiration Date:2019-05-30
Updated Date:2018-05-30
The site comes with a clear satire disclaimer at the bottom of each article:
sat·ire ~ˈsaˌtī(ə)r
noun
the use of humor, irony, exaggeration, OR ridicule to expose and criticize people's stupidity or vices, particularly in the context of contemporary politics and other topical issues.
If you disagree with the definition of satire or have decided it is synonymous with "comedy," you should really just move along.
The owner and main writer of the site is self-professed liberal troll Christopher Blair, a man from Maine who has made it his full time job to troll gullible conservatives and Trump supporters into liking and sharing his articles. He runs several other websites, including potatriotpost.us, dailyworldupdate.us and nofakenewsonline.us. Sometimes he is also known under his nickname "Busta Troll". A second man working on the sites is John Prager as revealed in this earlier story we wrote.
Blair used to run thelastlineofdefense.org and thelastlineofdefense.online, both of which are now defunct. The new site is promoted by the same Facebook page as the old ones and has an identical Google Analytics tag.
Articles from Blair's sites frequently get copied by "real" fake news sites who often omit the satire disclaimer and any other hints the stories are fake. Blair has tried to get these sites shut down in the past but new ones keep cropping up and he keeps knocking them down.
If you see one of his stories on a site that does not contain a satire disclaimer, assume it is fake news. If you do see the satire disclaimer it is of course also fake news.